A Word Game Support Tool Case Study
This article reports on the approach taken, experience gathered, and results found in building a tool to support the derivation of solutions to a particular kind of word game. This required that techniques had to be derived for simple yet acceptably quick access to a dictionary of natural language words (in the present case, Afrikaans). The main challenge was to access a large corpus of natural language words via a partial match retrieval technique. Other challenges included discovering how to represent such a dictionary in a "semi-compressed" format, thus arriving at a balance that favours search speed but nevertheless derives a savings on storage requirements. In addition, a query language had to be developed that would effectively exploit this access method. The system is designed to support a more intelligent query capability in the future. Acceptable response times were achieved even though an interpretive scripting language, ObjectREXX, was used.
Cet article présente la méthode utilisée, l'expérience menée et les résultats obtenus dans le processus de construction d'un outil d'aide à la dérivation des solutions relatives à un type particulier de jeux de mots. Ceci requiert que des techniques soient dérivées pour un accès simple et rapide dans le dictionnaire des mots du langage naturel (l'Afrikaans pour le cas d'espèce). Le gros problème était d'accéder à un large corpus de mots du langage naturel à travers la technique d'identification de mots par extraction partielle. L'autre défi était de représenter un tel dictionnaire sous un format «semi-compressé», permettant ainsi de se trouver dans une situation qui améliore non seulement le temps de recherche dans le dictionnaire, mais aussi l'espace requis pour sa sauvegarde. De plus, un langage de requête, exploitant de façon effective la dite méthode d'accès devait être mise en oeuvre. Le système est conçu de façon à supporter dans le futur des requêtes plus intelligentes. Un temps de réponse acceptable a été obtenu bien qu'un langage interprétatif de Scripting (ObjREXX) ait été utilisé.
Fichier principal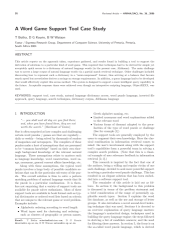 arima00607.pdf (169.93 Ko)
Télécharger le fichier
Origin : Publisher files allowed on an open archive