TFlex: Um Simulador de Teclado com Múltiplos Modos de Varredura
Nowadays, there is a number of computer input peripherals, however, not every person can use the most common input devices such as keyboard and mouse. This is the case of some people with physical and motor disabilities. For these people a keyboard simulator is a good alternative, but the current keyboard simulators have restrictions, which not always can be overcome, not assuring a good user's independence level. Therefore, a new keyboard simulator model is proposed, called TFlex, without the restrictions presented in others similar software. With the proposed model, a user with special needs could have total independence in computer while using TFlex. Besides, approaches to improve user's efficiency were developed, with different scan modes and keyboard layouts.
Atualmente, existem inúmeros periféricos de entrada para computadores. Contudo, nem todas as pessoas podem utilizar os dispositivos mais comuns como o teclado e o mouse. Este é o caso de algumas pessoas portadoras de deficiências físicas e motoras. Para este público, uma alternativa é um simulador de teclado. Todavia, os simuladores de teclado atuais apresentam restrições que nem sempre podem ser superadas, não garantindo um bom nível de autonomia e independência dos usuários. Portanto, propõe-se um novo modelo de simulador de teclado, denominado TFlex, sem as restrições apresentadas até então em softwares similares. Pelo modelo proposto, um usuário portador de necessidades especiais pode ter completa independência no uso do computador utilizando esse simulador de teclado. Além disso, tentativas para melhorar a eficiência de uso foram implementadas, como diferentes modos de varredura e layouts de teclado.
Fichier principal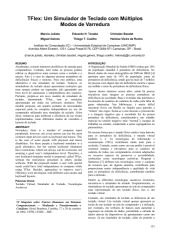 133-142-IHC2004-.pdf (1.01 Mo)
Télécharger le fichier
Origin : Files produced by the author(s)