Higher-order Graph Principles towards Non-rigid Surface Registration
This report casts surface registration as the problem of finding a set of discrete correspondences through the minimization of an energy function, which is composed of geometric and appearance matching costs, as well as higher-order deformation priors. Two higher-order graph-based formulations are proposed under different deformation assumptions. The first formulation encodes isometric deformations using conformal geometry in a higher-order graph matching problem, which is solved through dual-decomposition and is able to handle partial matching. Despite the isometry assumption, this approach is able to robustly match sparse feature point sets on surfaces undergoing highly anisometric deformations. Nevertheless, its performance degrades significantly when addressing anisometric registration for a set of densely sampled points. This issue is rigorously addressed subsequently through a novel deformation model that is able to handle arbitrary diffeomorphisms between two surfaces. Such a deformation model is introduced into a higher-order Markov Random Field for dense surface registration, and is inferred using a new parallel and memory efficient algorithm. To deal with the prohibitive search space, we design an efficient way to select a number of matching candidates for each point of the source surface based on the matching results of a sparse set of points. A series of experiments demonstrate the accuracy and the efficiency of the proposed framework, notably in challenging cases of large and/or anisometric deformations, or surfaces that are partially occluded.
Ce rapport formalise le problème du recalage de surfaces 3D comme la recherche d'un ensemble de correspondances discrètes par la minimisation d'une fonction d'énergie, qui est composée de fonctions de coûts mesurant des similitudes géométriques et d'apparence, et des à priori d'ordre élevé sur la déformation. Deux formulations à base de graphes d'ordre élevé sont proposées sous différentes hypothèses de déformation. La première formulation encode la déformation isométrique, à partir de géométrie conforme, dans un problème d'appariement de graphes d'ordre élevé, qui est résolu par décomposition duale et est capable de gérer les cas de correspondance partielle. Malgré l'hypothèse d'isométrie, cette approche est capable de mettre en correspondance de manière robuste deux ensembles clairsemés de points sur deux surfaces, y compris lorsque celles-ci subissent une déformation fortement anisométrique. Cependant, sa performance se dégrade de manière significative lorsqu'elle est étendue au recalage anisométrique d'un ensemble de points à forte densité. Ce problème est rigoureusement traité par la suite à travers un nouveau modèle de déformation capable de gérer des difféomorphismes arbitraires entre deux surfaces. Ce modèle de déformation est introduit dans une formulation MRF d'ordre élevé pour le recalage dense de surfaces, et être inféré en utilisant un nouvel algorithme parallèle et efficace en termes de mémoire. Pour traiter l'espace de recherche prohibitif, nous concevons une méthode efficace pour sélectionner un ensemble de correspondants potentiels pour chaque point appartenant à la surface source. Cette méthode est basée sur les résultats d'appariement d'un ensemble clairsemé de points. Notre méthode est validée au moyen d'une série d'expériences qui démontrent sa précision et son efficacité, notamment dans les cas difficiles où des déformations importantes et/ou anisométriques sont présentes, ou lorsque les maillages sont partiellement cachés.
Fichier principal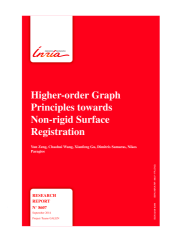 Rapport INRIA_TR_8607_V2.pdf (7.74 Mo)
Télécharger le fichier
Origin : Files produced by the author(s)