Suivi de partition pour l'alignement de la voix chantée
The pitch of singing voice is relatively less accurate and less stable than that of musical instruments and there are many variabilities, such as vibrato, intonation, etc. The music/score alignment system AnteScofo is based on the pitch information which adapts well to instrument music, but raises reliability problems for singing voice. This internship has two objectives, the first is to integrate the phonetic information into the system alignment to achieve the singing voice/text alignment and the second is to merge this information with that of pitch to make the system more robust. To accomplish the first objective, we integrate the vowel templates into the system, and conduct a preliminary experiment to prove that the spectral envelope gene- rated by the method "True envelope" is sufficiently distinctive for the vowels. To accomplish the second objective, two information fusion methods are proposed and among those the arith- metic averaging of the observation probabilities is proven to be the most robust by the evaluation.
La hauteur du son de la voix chantée est relativement moins juste et moins stable que celle de la musique instrumentale et il existe de nombreuses variabilités, comme le vibrato, l'intona- tion, etc. Le système d'alignement " musique/partition " AnteScofo se fonde sur l'information de la hauteur du son qui s'adapte bien à la musique instrumentale, mais qui pose des problèmes de fiabilité pour le chant. Ce stage a deux objectifs, le premier est d'intégrer l'information pho- nétique dans le système pour réaliser l'alignement " voix chantée/texte "; le deuxième est de fusionner cette information avec celle de la hauteur du son pour rendre le système d'alignement plus robuste. Pour accomplir le premier objectif, on intègre les gabarits de voyelle dans le sys- tème, et conduit une expérience pour mettre en évidence que l'enveloppe spectrale générée par la méthode " True envelope " est suffisamment distinctive pour les voyelles. Pour accomplir le deuxième objectif, deux méthodes de fusion d'information sont proposées et parmi lesquelles la méthode de la moyenne arithmétique des probabilités d'observation est prouvée d'être la plus robuste par l'évaluation.
Fichier principal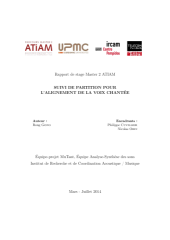 rapport.pdf (6.12 Mo)
Télécharger le fichier
Origin : Files produced by the author(s)