Evaluation des systèmes mobiles et ubiquitaires: proposition de méthodologie et retours d'expérience
The evaluation of mobile and/or ubiquitous interactive systems via user testing seems a priori more relevant in the field than in a usability laboratory. However, the results of the literature are contradictory. In this article, we aim at explaining the reasons why, and we propose a methodology that could minimize biases. The experiments described in the literature and our own experiments lead us to define the interactive environment concept and three possible experimental approaches: laboratory, field and reality testing. Then, we propose a methodology and a technique -the Trojan horse- adapted to the evaluation in reality testing. At last, we illustrate the theoretical approach by three experiments and give experience feedbacks on them. We conclude on the limits of our approach.
L'évaluation des systèmes interactifs mobiles et/ou ubiquitaires par l'intermédiaire des tests utilisateurs semble a priori plus pertinente sur le terrain qu'en laboratoire d'utilisabilité. Pourtant, les résultats de la littérature apparaissent comme contradictoires. Notre objectif dans cet article est d'en expliciter les raisons et de proposer une méthodologie minimisant les biais. Les expérimentations décrites dans la littérature et nos propres travaux nous ont amenés à définir le concept d'environnement interactif et trois approches expérimentales possibles : laboratoire, terrain et situation réelle. Nous proposons ensuite une méthodologie et une technique (le cheval de Troie) adaptées à l'évaluation en situation réelle. Enfin, nous illustrons notre approche théorique par trois expérimentations et en donnons des retours d'expérience. Nous concluons ensuite sur les limites de notre approche.
Fichier principal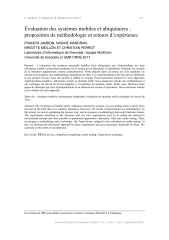 5-jambon.pdf (32.65 Mo)
Télécharger le fichier
Origin : Explicit agreement for this submission