Using K-MADe for learning task modeling: interests and difficulties
Teaching user-centred software design covers many aspects. One of the most important ones is task modeling. Since task modeling contributes largely to the ergonomic quality and acceptance of the resulting software, it is essential for task modeling concepts to be well understood by future software designers. To this end, this study aims at evaluating a task model (K-MAD) and its associated tool (K-MADe) as regards the task modeling training. This article describes the rationale of the study, the model and the software tool used, the teaching steps, and the experience feedback on the practical use of the software. The latter identifies the benefits and disadvantages of this practical use from the teaching point of view, but also from a practical standpoint, including in terms of evolution of the models obtained and of their edition.
L'enseignement de la conception de logiciel centrée utilisateur concerne de nombreux aspects. Un de ces aspects les plus importants est la modélisation des tâches. La modélisation des tâches contribuant fortement à la qualité ergonomique et à l'acceptation du logiciel résultant, il est indispensable qu'elle soit la mieux comprise possible par les futurs concepteurs de logiciels. Dans ce but, cette étude cherche à évaluer un modèle de tâche particulier (K-MAD) et son outil associé (K-MADe) dans une démarche d'enseignement de la modélisation des tâches. Cet article décrit la problématique de l'étude, le modèle et le logiciel enseigné, les différentes phases de l'enseignement, et le retour d'expérience d'utilisation concrète du logiciel. Ce retour d'expérience identifie les apports et les inconvénients liés à cette utilisation, lors de son enseignement, et propose des pistes d'évolution des modèles obtenus et d'édition de ces modèles.
Fichier principal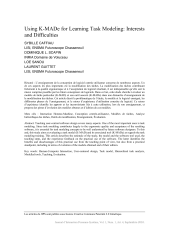 4-caffiau.pdf (4.78 Mo)
Télécharger le fichier
Origin : Explicit agreement for this submission