Premiers retours d'expérience sur l'utilisabilité et les usages de systèmes interactifs plastiques
The Plasticity property has been introduced in 1999 in France to cope with the new variability of the context of use in ambient intelligence. A User Interface (UI) is said to be plastic if it is able to adapt to its context of use while preserving human-centered properties. Ten years later, theoretical as well as practical advances have been made. However, several questions related to usability and acceptability of plastic UIs need to be answered through evaluation with users. This paper presents a state of the art in plasticity and evaluation (methods and concerns). It describes three demonstrators and presents first results from evaluations led in laboratory and in the wild.
La propriété de plasticité a été introduite en 1999 en France en réponse à une variabilité nouvelle du contexte d'usage en intelligence ambiante. Une Interface Homme-Machine (IHM) est dite plastique lorsqu'elle est douée d'adaptation à son contexte d'usage dans le respect de propriétés centrées utilisateur. Dix ans plus tard, les avancées sont certaines. On recense de nombreux résultats aussi bien théoriques que pratiques. Cependant, l'utilisabilité et l'acceptabilité des IHM plastiques soulèvent de nombreuses questions qui nécessitent la mise en œuvre d'évaluations auprès d'utilisateurs. Cet article présente l'état de l'art en plasticité et en évaluation (méthodes et difficultés). Il décrit trois démonstrateurs et présente les premiers retours d'évaluations menées en laboratoire et sur le terrain.
Fichier principal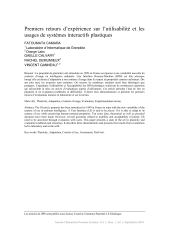 2-camara.pdf (8.13 Mo)
Télécharger le fichier
Origin : Explicit agreement for this submission