Loop-based Modeling of Parallel Communication Traces
This paper describes an algorithm that takes a trace of a distributed program and builds a model of all communications of the program. The model is a set of nested loops representing repeated patterns. Loop bodies collect events representing communication actions performed by the various processes, like sending or receiving messages, and participating in collective operations. The model can be used for compact visualization of full executions, for program understanding and debugging, and also for building statistical analyzes of various quantitative aspects of the program's behavior. The construction of the communication model is performed in two phases. First, a local model is built for each process, capturing local regularities; this phase is incremental and fast, and can be done on-line, during the execution. The second phase is a reduction process that collects, aligns, and finally merges all local models into a global, system-wide model. This global model is a compact representation of all communications of the original program, capturing patterns across groups of processes. It can be visualized directly and, because it takes the form of a sequence of loop nests, can be used to replay the original program's communication actions. Because the model is based on communication events only, it completely ignores other quantitative aspects like timestamps or messages sizes. Including such data would in most case break regularities, reducing the usefulness of trace-based modeling. Instead, the paper shows how one can efficiently access quantitative data kept in the original trace(s), by annotating the model and compiling data scanners automatically.
Ce rapport de recherche décrit un algorithme qui prend en entrée la trace d'un programme distribué, et construit un modèle de l'ensemble des communications du programme. Le modèle prend la forme d'un ensemble de boucles imbriquées représentant la répétition de motifs de communication. Le corps des boucles regroupe des événements représentant les actions de communication réalisées par les différents processus impliqués, tels que l'envoi et la réception de messages, ou encore la participation à des opérations collectives. Le modèle peut servir à la visualisation compact d'exécutions complètes, à la compréhension de programme et au debugging, mais également à la construction d'analyses statistiques de divers aspects quantitatifs du comportement du programme. La construction du modèle de communication s'effectue en deux phases. Premièrement, un modèle local est construit au sein de chaque processus, capturant les régularités locales~; cette phase est incrémentale et rapide, et peut être réalisée au cours de l'exécution. La seconde phase est un processus de réduction qui rassemble, aligne, et finalement fusionne tous les modèles locaux en un modèle global décrivant la totalité du système. Ce modèle global est une représentation compacte de toutes les communications du programme original, représentant des motifs de communication entre groupes de processus. Il peut être visualisé directement et, puisqu'il prend la forme d'un ensemble de nids de boucles, peut servir à rejouer les opérations de communication du programme initial. Puisque le modèle construit se base uniquement sur les opérations de communication, il ignore complètement d'autres données quantitatives, telles que les informations chronologiques, ou les tailles de messages. L'inclusion de telles données briserait dans la plupart des cas les régularités topologiques, réduisant l'efficacité de la modélisation par boucles. Nous préférons, dans ce rapport, montrer comment, grâce au modèle construit, il est possible d'accéder efficacement aux données quantitatives si celles-ci sont conservées dans les traces individuelles, en annotant le modèle et en l'utilisant pour compiler automatiquement des programmes d'accès aux données.
Fichier principal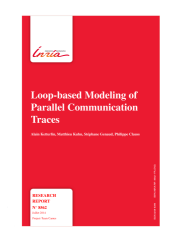 RR-8562.pdf (848.21 Ko)
Télécharger le fichier
Origin : Files produced by the author(s)