A Tiling Perspective for Register Optimization
Register allocation is a much studied problem. A particularly important context for optimizing register allocation is within loops, since a significant fraction of the execution time of programs is often inside loop code. A variety of algorithms have been proposed in the past for register allocation, but the complexity of the problem has resulted in a decoupling of several important aspects, including loop unrolling, register promotion, and instruction reordering. In this paper, we develop an approach to register allocation and promotion in a unified optimization framework that simultaneously considers the impact of loop unrolling and instruction scheduling. This is done via a novel instruction tiling approach where instructions within a loop are represented along one dimension and innermost loop iterations along the other dimension. By exploiting the regularity along the loop dimension, and imposing essential dependence based constraints on intra-tile execution order, the problem of optimizing register pressure is cast in a constraint programming formalism. Experimental results are provided from thousands of innermost loops extracted from the SPEC benchmarks, demonstrating improvements over the current state-of-the-art.
L'allocation de registres est un problème largement étudié. Un contexte particulièrement important pour l'optimisation de l'allocation de registres est celui des boucles car elles constituent une fraction importante du temps d'exécution du programme. De nombreux algorithmes d'allocation de registres ont été proposés dans le passé mais la complexité du problème à donné lieu à un découplage de plusieurs aspects importants, incluant notamment le déroulage de boucles, la promotion de registres ou le réordonnance d'instructions. Dans ce rapport nous développons une approche unifiée au problème d'allocation et promotion de registres dans un cadre d'optimisation qui combine l'impact du déroulage de boucles et le réordonnancement d'instructions. Ceci est réalisé grâce à une nouvelle approche de pavage-registres dans lequel les instructions du corps de boucle sont représentées le long d'une dimension et les itérations de la boucle interne le long d'une autre dimension. En profitant de régularités le long d'une dimension et en imposant à l'ordre intra-tuile les contraintes de dépendances, le problème d'optimisation de la pression registres est exprimée dans un formalisme de programmation par contraintes. Les résultats expérimentaux issus de milliers de boucles internes extraites de la suite de benchmarks SPEC, démontrent l'amélioration par rapport à l'état de l'art.
Fichier principal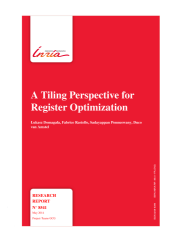 RR-8541-Inria.pdf (969.04 Ko)
Télécharger le fichier
Origin : Files produced by the author(s)