WifiLeaks: Underestimated Privacy Implications of the ACCESS_WIFI_STATE Android Permission
On Android, users can choose to install an application, or not, based on the permissions it requests. These permissions are later enforced on the application by the system, e.g., when accessing sensitive user data. In this work, we focus on the access to Wi-Fi related information, which is protected by the ACCESS_WIFI_STATE permission. We show that this apparently innocuous network related permission can leak Personally Identifiable Information (PII). Such information is otherwise only accessible by clearly identifiable permissions (such as READ_PHONE_STATE or ACCESS_FINE_LOCATION or ACCESS_COARSE_LOCATION). We analyzed permissions of 2700 applications from Google Play, and found that 41% of them use the ACCESS_WIFI_STATE permission. We then statically analyzed 998 such applications and, based on the results, selected 88 for dynamic analysis. Finally, we conducted an online survey to study the user perception of the privacy risks associated with this permission. Our results demonstrate that users largely underestimate the privacy implications of this permission, in particular because they often cannot realize what private information can be inferred from it. Our analysis further reveals that some companies have already started to abuse this permission to collect personal user information, for example, to get a unique device identifier for tracking across applications or to geolocalize the user without explicitly asking for the dedicated permissions. Because this permission is very common, most users are potentially at risk. There is therefore an urgent need for modification of the privileges granted by this permission as well as a more accurate description of the implications of accepting a permission.
Avec Android, les utilisateurs peuvent choisir d'installer ou non une application en fonction des permissions demandées par cette dernière. Ces permissions sont ensuite imposées à l'application par le système d'exploitation, par exemple lors de l'accès à des données sensibles de l'utilisateur. Dans ce travail nous nous intéressons à l'accès aux informations relatives au Wi-Fi, accès protégé par la permission ACCESS_WIFI_STATE. Nous montrons que cette permission de type réseau et d'apparence très anodine, peut être la cause de fuites d'informations personnelles (PII), qui ne seraient sinon accessibles que par des permissions clairement identifiables (telles que READ_PHONE_STATE ou ACCESS_FINE_LOCATION ou ACCESS_COARSE_LOCATION). Nous avons analysé les permissions de 2700 applications du marché Google Play, et nous avons trouvé que 41% d'entres elles demandent la permission ACCESS_WIFI_STATE. Nous avons ensuite analysé de façon statique 998 applications de cet ensemble, et en fonction des résultats, nous en avons sélectionné 88 pour une analyse dynamique plus poussée. Finallement nous avons conduit une enquête en ligne pour étudier la perception qu'ont les utilisateurs des risques associés à cette permission. Nos résultats démontrent que les utilisateurs sous estiment largement les implications en termes de vie privée de cette permission, en particulier parce qu'ils ne peuvent pas réaliser quelles informations privées peuvent en être tirées. Nos analyses montrent par ailleurs que certaines sociétés ont commencé à abuser de cette permission pour collecter des informations personnelles, par exemple pour obtenir un identifiant unique et stable du terminal à des fins de traçage, ou pour géolocaliser l'utilisateur sans avoir à lui demander explicitement l'autorisation. Parce que cette permission est très répendue, la plupart des utilisateurs courrent potentiellement un risque. Il y a donc un besoin urgent de modifier les privilèges associés à cette permission ainsi que de décrire plus précisément les implications que son acceptation peut avoir.
Fichier principal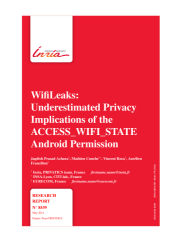 RR-8539.pdf (601.55 Ko)
Télécharger le fichier
Origin : Files produced by the author(s)