Data Communication in VANETs: A Survey, Challenges and Applications
VANETs have emerged as an exciting research and application area. Increasingly vehicles are being equipped with embedded sensors, processing and wireless communication capa- bilities opening a myriad of possibilities for powerful and potential life changing applications on safety, efficiency, comfort, public collaboration and participation while they are on the road. Al- though, considered a special case of a Mobile Ad Hoc Networks, VANETS hold a vital feature - the possibility to affect people's life or death decisions. Due to the particular characteristics, from highly dynamic topology to intermittent connectivity, VANETs have great challenges lie ahead, to mention a few: different application QoS requirements, and conflicting privacy and safety issues. In this paper, a view of VANETs is presented from the communication and application challenges perspective.
Réseaux de Véhicules sont apparus comme un domaine de recherche et d'application passionnants. De plus en plus, les véhicules sont équipés avec des capteurs embarqués et ont des capacités de traitement et de communication sans fil, qui ouvrent une infinité de possibilités d'applications puissantes qui peuvent changer notre vie quotidienne en terme de sécurité, d'efficacité, de confort, et de la collaboration et participation public sur la route. Bien que con- sidéré comme un cas particulier de réseaux ad hoc mobiles, les réseaux de véhicules maintient une fonction vitale - la possibilité d'influer sur la vie ou sur les décisions liées à la mort. En raison des caractéristiques particulières, de la topologie très dynamique avec de connectivité intermittente, les réseaux de véhicules ont de grands défis à relever, pour ne citer que quelques-uns: de différentes demandes de qualité de service de l'application, et les questions de confidentialité et de sécurité conflictuelle. Dans cet article, le réseau de véhicules est présenté par rapport a ses défis de communication et d'application.
Fichier principal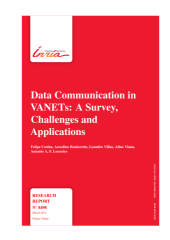 RR-8498.pdf (1.92 Mo)
Télécharger le fichier
Origin : Files produced by the author(s)