Towards a user-centred methodological framework for the design and evaluation of applications combining brain-computer interfaces and virtual environments: contributions of ergonomics
The paper aims to offer a user-centred methodological framework to guide design and evaluation of applications combining Brain-Computer Interface (BCI) and Virtual Environment (VE). Our framework is based on the contributions of ergonomics to ensure these applications are well suited for end-users. It provides methods, criteria and metrics to perform the phases of the human-centred design process aiming to understand the context of use, specify the user needs and evaluate the solutions in order to define design choices. Several ergonomic methods (e.g., interviews, longitudinal studies, user based testing), objective metrics (e.g., task success, number of errors) and subjective metrics (e.g., mark assigned to an item) are suggested to define and measure the usefulness, usability, acceptability, hedonic qualities, appealingness, emotions related to user experience, immersion and presence to be respected. The benefits and contributions of our user centred framework for the ergonomic design of applications combining BCI and VE are discussed.
Ce rapport présente un cadre méthodologique centré sur l'utilisateur visant à assister la conception et l'évaluation d'applications combinant les Interfaces Cerveau-Ordinateur (ICO) et les Environnements Virtuels (EV) afin qu'elles soient adaptées aux utilisateurs finaux. Sur la base de connaissances issues de l'ergonomie, ce cadre fournit des méthodes, des critères et des métriques permettant de réaliser les étapes du processus de conception centrée-utilisateur, étapes visant à comprendre le contexte d'utilisation, spécifier les besoins des utilisateurs et évaluer les solutions développées. En l'occurrence, plusieurs méthodes ergonomiques (e.g., entretiens, études longitudinales, évaluations avec des utilisateurs), métriques objectifs (e.g., réussite de la tâche, nombre d'erreurs) et métriques subjectifs (e.g., note associée à un item) sont suggérés pour définir et mesurer l'utilité, l'utilisabilité, l'acceptabilité, les qualités hédoniques et affectives, l'expérience utilisateur, l'immersion et la présence associées à l'interaction avec ces applications. Les bénéfices et les contributions de notre cadre méthodologique pour la conception ergonomique des applications combinant ICO et EV sont ensuite discutés.
Fichier principal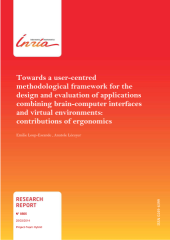 RR-8505.pdf (660.13 Ko)
Télécharger le fichier
Origin : Files produced by the author(s)