Will the Driver Seat Ever Be Empty?
Self-driving technologies have matured and improved to the point that, in the past few years, self-driving cars have been able to safely drive an impressive number of kilometers. It should be noted though that, in all cases, the driver seat was never empty: a human driver was behind the wheel, ready to take over whenever the situation dictated it. This is an interesting paradox since the point of a self-driving car is to remove the most unreliable part of the car, namely the human driver. So, the question naturally arises: will the driver seat ever be empty? Besides legal liability issues, the answer to that question may lie in our ability to improve the self-driving technologies to the point that the human driver can safely be removed from the driving loop altogether. However, things are not that simple. Motion safety, i.e. the ability to avoid collisions, is the critical aspect concerning self-driving cars and autonomous vehicles in general. Before letting self-driving cars transport people around (and move among them) in a truly autonomous way, it is crucial to assess their ability to avoid collision, and to seek to characterize the levels of motion safety that can be achieved and the conditions under which they can be guaranteed. All these issues are explored in this article.
Les technologies de conduite automatique ont mûries et se sont améliorées au point que, au cours des dernières années, les voitures automatiques ont été en mesure de conduire en toute sécurité un nombre impressionnant de kilomètres. Il convient cependant de noter que, dans tous les cas, le siège du conducteur n'était jamais vide : un conducteur humain était au volant, prêt à prendre le relais dès que la situation dictée. C'est un paradoxe intéressant car le point d'une voiture automatique est d'enlever la partie la plus sensible de la voiture, à savoir le conducteur humain. Ainsi, la question se pose naturellement: le siège du conducteur sera t'il vide un jour? Outre les questions de responsabilité juridique, la réponse à cette question réside peut-être dans notre capacité à améliorer les technologies de la conduite automatique, au point que le pilote humain peut en toute sécurité être retiré de la boucle de conduite. Toutefois, les choses ne sont pas aussi simple que cela. La sécurité de mouvement, i.e. la capacité à éviter les collisions, est l'aspect critique à l'égard de voitures automatiques et les véhicules autonomes en général. Avant de laisser les voitures automatiques transporter des personnes (et se déplacer parmi eux) d'une manière réellement autonome, il est crucial d'évaluer leur capacité à éviter la collision, et de chercher à caractériser les niveaux de sécurité de mouvement qui peuvent être atteints et les conditions dans lesquelles elles peuvent être garanties. Toutes ces questions sont examinées dans cet article.
Fichier principal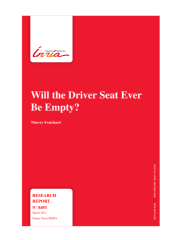 14-rr-fraichard.pdf (666.75 Ko)
Télécharger le fichier
Origin : Files produced by the author(s)