Decentralized Traffic Management: A Synchronization-Based Intersection Control --- Extended Version
Controlling the vehicle traffic in large networks remains an important challenge in urban environments and transportation systems. Autonomous vehicles are today considered as a promising approach to deal with traffic control. In this paper, we propose a synchronization-based intersection control mechanism to allow the autonomous vehicle-agents to cross without stopping, i.e., in order to avoid congestions (delays) and energy loss. We decentralize the problem by managing the traffic of each intersection independently from others. We define control agents which are able to synchronize the multiple flows of vehicles in each intersection, by alternating vehicles from both directions. We present experimental results in simulation, which allow to evaluate the approach and to compare it with a traffic light strategy. These results show the important gain in terms of time and energy at an intersection and in a network.
Contrôler le trafic dans les grands réseaux reste un défi important dans les milieux urbains et les systèmes de transport. Les véhicules autonomes sont aujourd'hui considérés comme une approche prometteuse pour fluidifier le trafic. Dans cet article, nous proposons un mécanisme de contrôle d'intersection fondé sur la synchronisation pour permettre aux véhicules-agents autonomes de traverser sans s'arrêter afin d'éviter les congestions (retards) et la perte d'énergie. Nous décentralisons le problème en gérant le trafic de chaque intersection indépendamment des autres. Nous définissons des agents de contrôle qui sont capables de synchroniser les multiples flux de véhicules à chaque intersection, en alternant les véhicules des deux routes. Nous présentons des résultats expérimentaux mesurés en simulation, lesquels permettent d'évaluer l'approche et de la comparer à une stratégie plus classique basée sur les feux de circulation. Ces résultats montrent le gain important en termes de temps et d'énergie à une intersection et dans un réseau.
Fichier principal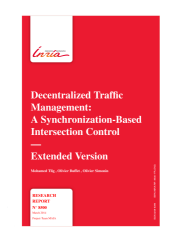 RR-8500.pdf (713.92 Ko)
Télécharger le fichier
Origin : Files produced by the author(s)