Handling Constraints in Cardinality-Based Feature Models: The Cloud Environment Case Study
Feature modeling is a well-known approach to describe variability in Software Product Lines. Cardinality-based Feature Models (FMs) is a type of FMs where features can be instantiated several times in the configuration, contrarily to boolean FMs where a feature is present or not. While boolean FMs configuration is easily handled by current approaches, there is still a lack of support regarding cardinality-based FMs. In particular, expressing constraints over the set of feature instances is not supported in current approaches, where cardinality involved in such constraints can not be specified. To face this limitation, we define in this paper cardinality-based expressions and provide the related formal syntax and semantics as well as the way to automate the underlying configuration. We study the need for such a support using cloud computing environment configurations as a motivating example. To evaluate the soundness of the proposed approach, we analyze a corpus of 10 cloud environments. Our empirical evaluation shows that constraints relying on our cardinality-based expressions are common and that our approach is effective and can provide an useful support to developers for modeling and reasoning about FMs with cardinalities.
La modélisation à l'aide de caractéristiques est une approche très utilisée dans les lignes de produits logiciels. Les Modèles de Caractéristiques (MCs) étendus avec des cardinalités sont un des MCs dans lesquels une caractéristique peut être instanciée plusieurs fois lors de la configuration, contrairement au MCs booléens dans lesquels une caractéristique est présente ou non. Alors que la configuration de MCs booléens est aujourd'hui maitrisée par différentes approches, il reste cependant un manque en terme de support pour les MCs étendus avec des cardinalités. Notamment, pouvoir exprimé des contraintes sur le nombre d'instances requises n'est pas permis dans les approches existantes, puisque les contraintes ne peuvent être exprimées que sur des caractéristiques booléennes. Pour contrer cette limite, nous fournissons dans cet article une nouvelle notation pour exprimer ces contraintes, une définition formelle de leur syntaxe et de leur sémantique ainsi qu'un moyen d'automatiser la vérification des configurations associées. Pour illustrer notre approche, nous étudions le besoin pour un tel support dans le cadre de la configuration d'environnements d'informatique dans les nuages. Nous évaluons notre approche sur un ensemble de 10 environnements. Notre étude empirique montre que les besoins pour exprimer ce type de contraintes sont communs dans ces environnements et que notre approche est efficace pour les gérer.
Fichier principal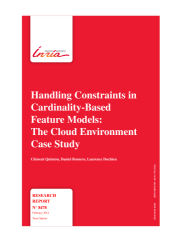 RR-8478.pdf (1013.37 Ko)
Télécharger le fichier
Origin : Files produced by the author(s)