Towards Efficient Risk Quantification - Using GPUs and Variance Reduction Technique
Value-at-Risk (VaR) provides information about global risk in trading. The request for high speed calculation about VaR is rising because financial institutions need to measure the risk in real time. Researchers in HPC also recently turned their attention on this kind of demanding applications. In this master thesis, we introduce two complementary and different strategies to improve VaR calculation: one is directly coming from financial mathematics, the other pertains to take advantage of high performance recently available computing devices: GPUs. Our aim is to study the potential of these two approaches on well chosen examples in order to evaluate how much computing time we can spare. Eventually, we discuss alternate approaches worth to be studied in future works.
Value-at-Risk (VaR) nous donne des renseignements sur le risque total dans le commerce lorsque nous devons faire la gestion des risques. La demande du calcul rapide de la VaR se développe parce que les etablissements financiers et les entreprises veulent mesurer le risque en temps réel; et depuis récemment de nombreux chercheurs explorent le potentiel du calcul à haute performance pour le faire. Nous introduisons deux possibilités provenant de mathématiques financières et de calcul sur GPU pour faire face à ce problème. Nous l'avons également mis en oeuvre avec des exemples afin de comparer les résultats, pour voir combien d'accélération nous pouvons gagner. Enfin, nous discutons d'autres approches qui peuvent être les futurs travaux.
Fichier principal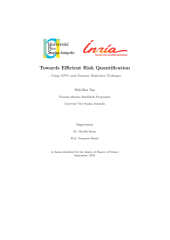 MasterThesisShiHau.pdf (845.27 Ko)
Télécharger le fichier
Origin : Files produced by the author(s)