Analysis of the dynamics of a class of models for vector-borne diseases with host circulation
In this work we study the dynamics of a vector borne disease on a metapopulation model that accounts for host circulation. For such models, the movement network topology gives rise to a contact network topology, corresponding to a bipartite graph. Under the assumption that the contact network is strongly connected, we can define the basic reproductive number R_0 and show that this system has only two equilibria: the so called disease free equilibrium (DFE); and a unique interior equilibrium that exists if, and only if, the basic reproduction number, R_0, is greater that unity. We are also able to show that the DFE is globally asymptotically stable, if R_0 ≤ 1. If R_0 > 1, the dynamics is uniformly persistent and, with further assumptions on the contact network structure, we also show that the endemic equilibrium (EE) is globally asymptotically stable.
Dans ce travail, nous étudions la dynamique d'une maladie vectorielle (transmise par vecteur) sur un modèle de métapopulation qui tient compte de la circulation humaine. Sous l'hypothèse que le réseau de contacts est fortement connecté, nous définissons le nombre de re- production de base R0 et montrons que ce ce système a seulement deux équilibres: l'équilibre sans maladie (DFE), et un équilibre intérieur unique qui existe si , et seulement si, le nombre de reproduction de base, R0, est plus grand que l'unité. Dans ce cas, le système est également persistant. Nous sommes également en mesure de montrer que le DFE est globalement asympto- tiquement stable, si R0 ≤ 1, et que la dynamique est uniformément persistante si R0 > 1. Avec d'autres hypothèses sur la structure du réseau de contacts, nous montrons alors que l'équilibre endémique (EE) est globalement asymptotiquement stable, si R0 > 1.
Fichier principal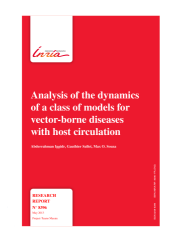 RR-8396.pdf (755.24 Ko)
Télécharger le fichier
Origin : Files produced by the author(s)