Steering Behaviors for Autonomous Cameras
The automated computation of appropriate viewpoints in complex 3D scenes is a key problem in a number of computer graphics applications. In particular, crowd simulations create visually complex environments with many simultaneous events for which the computation of relevant viewpoints remains an open issue. In this paper, we propose a system which enables the conveyance of events occurring in complex crowd simulations. The system relies on Reynolds' model of steering behaviors to control and locally coordinate a collection of camera agents similar to a group of reporters. In our approach, camera agents are either in a scouting mode, searching for relevant events to convey, or in a tracking mode following one or more unfolding events. The key benefit, in addition to the simplicity of the steering rules, holds in the capacity of the system to adapt to the evolving complexity of crowd simulations by self-organizing the camera agents to track interesting events.
Le placement automatique de caméra dans une scène 3D est un problème important en informatique graphique. En particulier, les simulations de foules produisent des scènes complexes pour lesquelles le choix du point de vue est un problème non résolu. Dans ce travail, nous présentons une approche permettant de déterminer le placement et le cadrage de plusieurs caméras évoluant dans une simulation de foule, de facon à montrer aux mieux les événements qui se déroulent dans la simulation. Outre sa simplicité, notre méthode présente l'avantage d'adapter automatiquement le comportement des caméras à la complexité de la scène.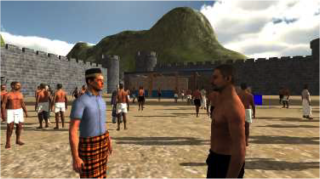 steering-thumbnail.png (505.74 Ko)
Télécharger le fichier
Fichier principal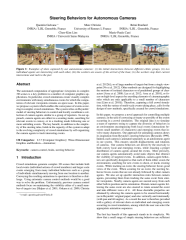 steering_revised_light.pdf (636.28 Ko)
Télécharger le fichier
Demo.mp4 (28.85 Mo)
Télécharger le fichier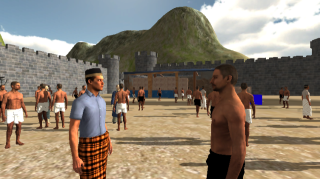 Img-0821.png (454.02 Ko)
Télécharger le fichier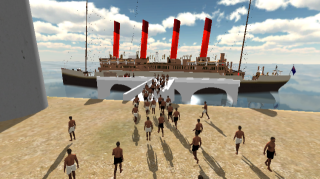 Img-2350.png (427.94 Ko)
Télécharger le fichier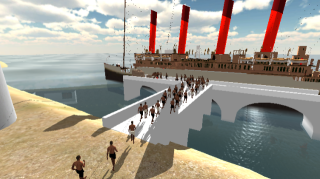 Screenshot2.png (377.43 Ko)
Télécharger le fichier
Origin : Files produced by the author(s)