Utilisation efficace des accélérateurs GPU -- Ordonnancement sur machines hybrides
The race for ever more computing power raises the issue of supercomputers' power consumption. Heterogeneous architectures - composed of processor and GPU accelerators - seem to be a promising answer. Scheduling on such machines is nowadays relying on the programmer's skill set and made in a static way. We study the problem of scheduling of independent tasks on such architectures. We propose a bi-objective approximation algorithm which simultaneously optimizes the makespan and the affinity. The provided algorithm has a low complexity. We then validate the performance of its implementation within the framework XKaapi.
La course à la puissance de calcul dans les super-calculateurs pose la problématique de la consommation énergétique de ces machines. Les systèmes hybrides - composés de processeurs et d'accélérateurs GPU (Graphics Processing Unit) - sont une réponse prometteuse à cette question. Actuellement, l'allocation des tâches sur des telles machines est réalisée par le programmeur de manière statique. Nous étudions le problème de l'ordonnancement de tâches indépendantes sur ces architectures. Nous proposons un algorithme d'approximation bi-critère - de faible complexité algorithmique - optimisant simultanément localité et temps de complétion avec des garanties de performance. Les performances de son implémentation dans l'environnement de calcul parallèle XKaapi sont ensuite validées par une étude expérimentale.
Fichier principal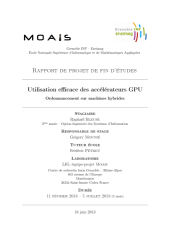 rapport.pdf (1.04 Mo)
Télécharger le fichier
Origin : Files produced by the author(s)