Découverte automatique de structures musicales en temps réel par la géométrie de l'information
This master's thesis aims at exploring the challenge of automatically retrieving musical structures within an audio file. Our main contribution is to formulate this well-studied problem in the frame- work of computational information geometry, an emerging field at the frontier between statistics, differential geometry, and data mining. In this framework, we unify the fundamental tasks of event segmentation and similarity computing in a single sequential scheme for structure discovery. Furthermore, we propose an original metric on temporal segments, which combines several criteria of geometrical comparability : divergence between centroids, as well as inclusion and intersection ratios of corresponding information balls.
Ce rapport de fin de stage vise à explorer la découverte automatique de structures musicales dans un fichier audio. Notre contribution principale est de formuler ce problème dans le cadre de la géométrie de l'information computationnelle, une disci- pline émergente mêlant statistiques, géométrie différentielle, et fouille de données. Nous y rassemblons la segmentation en évènements mu- sicaux et le calcul de leurs similarités en un seul schéma séquentiel de structuration. De plus, nous proposons une métrique originale entre segments temporels, qui combine plusieurs critères de ressemblance géométrique : divergence entre centroïdes, mais aussi rapports d'inclusion et d'intersection entre les boules informationnelles associées.
Fichier principal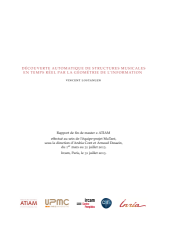 lostanlen.pdf (1.63 Mo)
Télécharger le fichier
Origin : Files produced by the author(s)