Numerical study of macroscopic pedestrian flow models
We analyze numerically macroscopic models of crowd dynamics: classical Hughes model and the second order model being an extension to pedestrian motion of the Payne-Whitham vehicular traffic model. The desired direction of motion is determined by solving an eikonal equation with density dependent running cost function standing for minimization of the travel time and avoidance of congested areas. We apply a mixed finite volume-element method to solve the problems and present error analysis in case of the eikonal solver, gradient computation and the second order model yielding a first order convergence. We show that Hughes' model is incapable of reproducing complex crowd dynamics such as stop-and-go waves and clogging at bottlenecks. Finally, using the second order model, we study numerically the evacuation of pedestrians from a room through a narrow exit. In particular, we analyze the effect on the total evacuation time of the level of compression, the desired speed and the presence of obstacles.
On analyse plusieurs modèles numériques pour la dynamique des foules : le modèle classique de Hughes et le modèle du second ordre, qui est une extension au mouvement de piétons du modèle de Payne-Whitham pour le trafic routier. La direction du mouvement est obtenue par résolution d'une équation Eikonale avec une fonction de coût dépendant de la densité, de manière à minimiser le temps de déplacement et éviter les endroits congestionnés. On utilise une méthode mixte éléments / volumes finis pour résoudre le problème et on présente une analyse d'erreur pour la résolution de l'équation Eikonale, le calcul de gradient et le modèle du second ordre, aboutissant à une précision du premier ordre. On montre que le modèle de Hughes est incapable de reproduire la dynamique des foules complexes, comme les ondes de type "stop-and-go" et le phénomène de colmatage apparaissant aux goulots d'étranglement. Enfin, avec le modèle du second ordre, on étudie numériquement l'évacuation de piétons d'une salle avec une sortie étroite. An particulier, on analyse l'effet du niveau de compression, de la vitesse de déplacement et la présence d'obstacle sur le temps total d'évacuation.
Fichier principal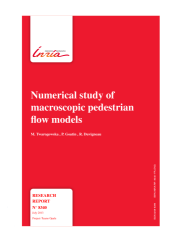 RR-8340.pdf (4.8 Mo)
Télécharger le fichier
Origin : Files produced by the author(s)