Comprehensive Extrinsic Calibration of a Camera and a 2D Laser Scanner for a Ground Vehicle
Cameras and laser scanners are two important kinds of perceptive sensors and both become more and more commonly used for intelligent ground vehicles; the calibration of these sensors is a fundamental task. A new method is proposed to perform COMPREHENSIVE extrinsic calibration of a SINGLE camera-2D laser scanner pair, i.e. the process of revealing ALL the spatial relationships among the camera coordinates system, the laser scanner coordinates system, the ground coordinates system, and the vehicle coordinates system. The proposed method is mainly based on the convenient and widely used chessboard calibration practice and can be conveniently implemented. The proposed method has been tested on both synthetic data and real data based experiments, which validate the effectiveness of the proposed method.
La caméra et le scanner laser sont deux types importants de capteurs perceptifs et tous les deux deviennent de plus en plus communs pour de nombreuses applications des véhicules intelligents. La calibration de ces capteurs est une tâche fondamentale. Dans ce rapport, on a propose une nouvelle méthode pour réaliser la calibration extrinsèque compréhensive d'une seule paire caméra-scanner laser 2D, à savoir le procédé de révéler tous les relations spatiales parmi un système de coordonnées caméra, un système de coordonnées scanner laser, un système de coordonnées terrestre, et un système de coordonnées véhicule. La méthode proposée se fonde principalement sur la practique de cabliration au damier et est facile à mettre en œuvre. Des tests des données réelles et des données synthétiques ont validé la performance de la méthode proposée.
Fichier principal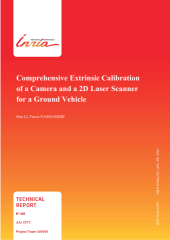 RT-438.pdf (659.89 Ko)
Télécharger le fichier
Origin : Files produced by the author(s)