Non Ribosomal Peptides : A monomeric puzzle
Nonribosomal peptides (NRPs) are increasingly studied because they harbor activities which can be exploited in various domains. They are often denoted as graphs illustrating their chemical structure, where the atoms are represented by nodes and the chemical bonds by arcs. Another possible representation is the monomeric structure. This structure, inspired by the biosynthetic pathway of these peptides, is effectuated by large enzymatic complexes which assemble together smaller compounds called monomers. Consequently, the nonribosomal peptides are composed of a great variety of monomers (more than 500 are known) including amino acids, lipids and carbohydrates. Likewise, nonpetidic bonds are formed between multiple monomers, producing peptides with cycles and/or branches. Thus, the monomeric structure is a graph formed by the monomers present in the peptide and their interlinking chemical bonds. Until now, there did not exist a tool allowing for the conversion between the atomic and monomeric structures. This article presents a novel algorithm capable of localising the monomers from a reference list in the chemical structures of peptides extracted from the Norine database. The algorithm is based on a heuristic that utilizes chemical information of NRPs. The preliminary results are encouraging, and should lead to further studies.
Les peptides non-ribosomiques (NRP) sont des molécules de plus en plus étudiées car elles présentent des activités ayant des applications principalement dans le domaine pharmaceutique. Elles sont souvent décrites par leur structure chimique, c'est-a-dire un graphe dont les noeuds sont des atomes et les arêtes les liaisons chimiques. Une autre représentation possible est la structure monomérique. Cette structure, inspirée de la voie de synthèse de ces peptides, est réalisé par de gros complexes enzymatiques qui assemblent les briques de base, appelées monomères. Ainsi, les peptides non-ribosomiques sont composés d'une grande variété de monomères (plus de 500 recensés jusqu'à présent) tels que des acides aminés, mais aussi des lipides ou des sucres. De plus, des liaisons non-peptidiques peuvent être formées entre certains monomères, ce qui produit des peptides contenant des cycles et/ou des branchements. La structure monomérique est donc le graphe formé par les monomères présents dans le peptide et les liaisons qui les relient. A l'heure actuelle, il n'existe pas d'outil permettant de convertir la structure chimique d'un peptide non-ribosomique en sa structure monomérique. Cet article présente un algorithme capable de localiser les monomères d'une liste de référence dans les structures chimiques des peptides de la base de données Norine. Il est basé sur une heuristique gloutonne qui utilise des connaissances sur la chimie des NRP. Les résultats préliminaires sont satisfaisants et devraient conduire à de nouvelles études.
Fichier principal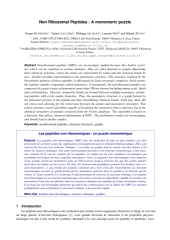 jobim_dufresne_nrp_2013.pdf (249.66 Ko)
Télécharger le fichier
Origin : Files produced by the author(s)