Summarized Explanations from Linked Justifications
A user of a Semantic Web application may not trust its results because he may not understand how the application produces its results using distributed data and inferential capabilities. Explanation-aware Semantic Web applications provide explanations of their reasoning - explaining why an application has performed a given step or which information it has used to derive a new piece of information. However, providing too much and irrelevant information in explanations may overwhelm the users, especially the non-expert users. In this paper, we discuss an approach to explain reasoning over Linked Data. We introduce a vocabulary to describe justifications and we discuss how publishing justifications as Linked Data enables explaining reasoning over Linked Data. Finally, we discuss how to summarize explanations with relevant information taking into account user specified explanation filtering criterion.
Un utilisateur d'une application Web sémantique peut ne pas faire confiance à ses résultats, car il peut ne pas comprendre comment l'application produit ses résultats à l'aide de ses capacités inférentielles et de données distribuées. Les applications Web sémantique sensibles aux explication fournissent des explications de leurs raisonnements - pour expliquer pourquoi une étape a été effectué ou quelles informations ont été utilisées pour cette étape. Cependant, fournir trop d'informations parfois non pertinentes dans les explications peut submerger les utilisateurs, en particulier ceux non-experts. Dans cet article, nous discutons d'une approche pour expliquer le raisonnement sur ​​le web des données liées. Nous introduisons un vocabulaire pour décrire les justifications et nous montrons comment publier des justifications en tant que données liées pour expliquer les raisonnements sur le web des données liées. Enfin, nous discutons de la façon de résumer les explications par des information pertinente en fonction des critères de filtre d'explication spécifiés par l'utilisateur.
Fichier principal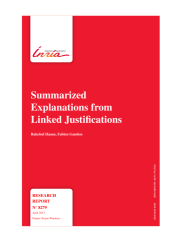 RR-8279.pdf (1.32 Mo)
Télécharger le fichier
Origin : Files produced by the author(s)