Extensions of the Siesta DFT Code for Simulation of Molecules
We describe extensions to the siesta density functional theory (dft) code [30], for the simulation of isolated molecules and their absorption spectra. The extensions allow for: - Use of a multi-grid solver for the Poisson equation on a finite dft mesh. Non-periodic, Dirichlet boundary conditions are computed by expansion of the electric multipoles over spherical harmonics. - Truncation of a molecular system by the method of design atom pseudo- potentials of Xiao and Zhang[32]. - Electrostatic potential fitting to determine effective atomic charges. - Derivation of electronic absorption transition energies and oscillator stren- gths from the raw spectra produced by a recently described, order O(N3), time-dependent dft code[21]. The code is furthermore integrated within siesta as a post-processing option.
Nous décrivons les extensions au code siesta [30] de la théorie de la fonctionnelle de densité (dft), pour la simulation des molécules isolées et leurs spectres d'absorption. Ces extensions permettent : * l'utilisation d'un solveur multigrille pour l'équation de Poisson sur le maillage dft L ̇es conditions aux limites de Dirichlet sont calculées par un développement en harmoniques sphériques du potentiel électrique ; * la coupure du système moléculaire à l'aide du pseudo-potentiels de l'atome sur mesure de Xiao Zhang[32] ; * le calcul des charges effectives atomiques par la méthode de l'ajustement du potentiel électrostatique ; * Calcul des énergies de transition d'absorption électroniques et des forces d'oscillateur à partir des spectres bruts obtenus par un code dft dépendant du temps[21]. Le code est en outre intégré dans siesta comme une option de post-traitement. code[21].
Fichier principal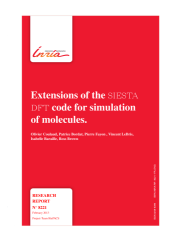 RR-8221.pdf (1.37 Mo)
Télécharger le fichier
Origin : Files produced by the author(s)