Genome dedoubling by DCJ and reversal
Background
Segmental duplications in genomes have been studied for many years. Recently, several studies have highlighted a biological phenomenon called breakpoint-duplication that apparently associates a significant proportion of segmental duplications in Mammals, and the Drosophila species group, to breakpoints in rearrangement events.
Results
In this paper, we introduce and study a combinatorial problem, inspired from the breakpoint-duplication phenomenon, called the Genome Dedoubling Problem. It consists of finding a minimum length rearrangement scenario required to transform a genome with duplicated segments into a non-duplicated genome such that duplications are caused by rearrangement breakpoints. We show that the problem, in the Double-Cut-and-Join (DCJ) and the reversal rearrangement models, can be reduced to an APX-complete problem, and we provide algorithms for the Genome Dedoubling Problem with 2-approximable parts. We apply the methods for the reconstruction of a non-duplicated ancestor of Drosophila yakuba.
Conclusions
We present the Genome Dedoubling Problem, and describe two algorithms solving the problem in the DCJ model, and the reversal model. The usefulness of the problems and the methods are showed through an application to real Drosophila data.
Fichier principal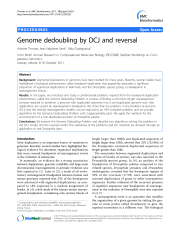 1471-2105-12-S9-S20.pdf (247.3 Ko)
Télécharger le fichier
1471-2105-12-S9-S20-S1.PDF (240.68 Ko)
Télécharger le fichier
1471-2105-12-S9-S20-S2.PDF (162.67 Ko)
Télécharger le fichier
1471-2105-12-S9-S20.xml (65.61 Ko)
Télécharger le fichier
Origin : Publisher files allowed on an open archive