Un modèle continu pour la simulation de réseau d'assainissement sous Matlab
Most of the managers of sewer systems undergo mostly the performance of their network. They have many difficulties to detect anomalies and even to control them. Especially during heavy rains, important rejections of pollutions in the environment and many difficulties of the management of different runoff can result from this misunderstanding. Thus, it is very interesting to better manage the pumping stations and the sewer overflows, what requires a better knowledge of the laws governing the flows of waters causing pollution and their importance based on the forecasts of precipitation. In all cases, it is important to the manager of such networks to have methods to take into account these various sources of disturbance and tools integrating models for the prediction of the behavior of the sanitation system. It is here the use of hybrid approaches (mathematical models, simulation tools) to model the behavior of a sewer system from the point of view of the automation specialist and allow an optimal management of this one that is to say that minimizes the release of pollutants into the nature in the case of strong thunderstorms while maintaining the same level of protection against floods.
La plupart des gestionnaires de réseaux d'assainissement subissent le plus souvent le fonctionnement de leur réseau. Ils ont aujourd'hui beaucoup de difficultés à détecter les anomalies et a fortiori les contrôler. Notamment lors de fortes pluies, des rejets importants de pollutions au milieu naturel peuvent résulter de cette méconnaissance et des difficultés de gestion des différentes eaux de ruissellement. Il résulte de cette constatation qu'il convient de mieux gérer les stations de relèvement et les déversoirs d'orage, ce qui nécessite une meilleure connaissance des lois qui régissent les écoulements des eaux, l'origine des pollutions et leur importance en fonction des prévisions de précipitations. Dans tous les cas, il est important pour le gestionnaire de tels réseaux de disposer de méthodes pour prendre en compte ces diverses sources de perturbation et d'outils intégrant des modèles permettant la prévision du comportement du système d'assainissement. Il s'agit ici d'utiliser des approches hybrides (modèles mathématiques, outil de simulation) pour modéliser le comportement d'un réseau d'assainissement du point de vue de l'automaticien et permettre une gestion optimale de celui-ci c'est à dire qui minimise les rejets de polluants dans la nature dans le cas de forts orages tout en gardant le même niveau de protection contre les inondations.
Fichier principal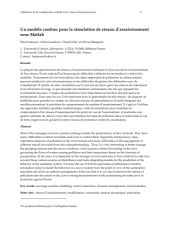 majecstic2012_submission_33.pdf (840.81 Ko)
Télécharger le fichier
Origin : Files produced by the author(s)