Reflected BSDEs and robust optimal stopping for dynamic risk measures with jumps
We study the optimal stopping problem for dynamic risk measures represented by Backward Stochastic Differential Equations (BSDEs) with jumps and its relation with reflected BSDEs (RBSDEs). We first provide general existence, uniqueness and comparison theorems for RBSDEs with jumps in the case of a RCLL adapted obstacle. We then show that the value function of the optimal stopping problem is characterized as the solution of an RBSDE. The existence of an optimal stopping time is obtained when the obstacle is left-upper semi-continuous along stopping times. Finally, robust optimal stopping problems related to the case with model ambiguity are investigated.
On étudie le problème d'arrêt optimal de mesures de risque dynamiques représentées par des équations différentielles stochastiques (EDSR) avec sauts et sa relation avec des EDSR réfléchies. On prouve des théorèmes généraux d'existence, d'unicité et de comparaison pour ces équations dans le cas d'un obstacle càdlàg adapté. On montre que la fonction valeur de notre problème d'arrêt optimal est solution d'une EDSR réfléchie. L'existence d'un temps d'arrêt optimal est obtenu sous des conditions de régularité à gauche de l'obstacle. On étudie ensuite le problème d'arrêt optimal dans le cas d'ambiguité de modèle pour la mesure de risque.
Fichier principal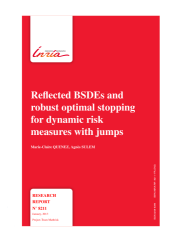 RR-8211.pdf (919.78 Ko)
Télécharger le fichier
Origin : Files produced by the author(s)