Contracts and Behavioral Patterns for Systems of systems: The EU IP DANSE approach
This report presents some of the results of the first year of Danse, one of the first EU IP projects dedicated to System of Systems. Concretely, we offer a tool chain that allows to specify SoS and SoS requirements at high level, and analyse them using powerful toolsets coming from the formal verification area. At the high level, we use UPDM, the system model provided by the british army as well as a new type of contract based on behavioral patterns. At low level, we rely on a powerful simulation toolset combined with recent advances from the area of statistical model checking. The approach has been applied to a case study developed at EADS Innovation Works.
Ce document présente les résultats de la première année du projet Danse, un des premiers projets IP de recherche portant sur les systèmes de Systèmes (SoS en anglais). Concrètement, une chaîne d'outils a été développée de façon à spécifier à "haut niveau" puis à analyser formellement un SoS avec un ensemble prérequis, c'est à dire un ensemble de propriétés que le SoS doit valider. L'analyse du SoS repose sur l'utilisation d'outils efficaces de vérification formelle. À "haut niveau", le SoS est décrit en UPDML, le langage dédié à la modélisation des SoS que l'armée britannique à développé, alors que les prérequis du SoS sont spécifiés au moyen d'un langage de contrats décrivant les comportements attendus du systèmes. Cette spécification "haut niveau" est compilée en une représentation "bas-niveau" qui est simulée et analysée grâce à des outils émanant des récentes techniques de vérification statistique. L'approche a en particulier été appliquée sur un cas d'étude développé par EADS Innovation Works.
Fichier principal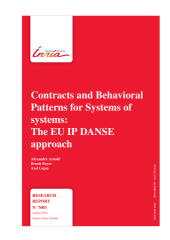 rreport.pdf (900.91 Ko)
Télécharger le fichier
Origin : Files produced by the author(s)