Towards deconvolution to enhance the grid method for in-plane strain measurement
The grid method is one of the available techniques to measure in-plane displacement and strain components on a deformed material. A periodic grid is first transferred on the specimen surface, and then images of the grid are compared before and after deformation. Windowed Fourier analysis-based techniques then permits to estimate the in-plane displacement maps and the strain components. In this report, we give a precise analysis of this estimation process. We show that the retrieved displacement maps and strain components are actually a tight approximation of the convolution of the actual displacements and strains with the analysis window. We also characterize the effect of digital image noise on the retrieved quantities and we prove that the resulting noise can be approximated by a stationary spatially correlated noise. These results are of utmost importance to enhance the metrological performance of the grid method, as shown in a separate report.
La méthode de la grille est une des techniques de champs permettant de mesurer les déplacements ou les déformations à la surface d'un matériau subissant une sollicitation. Une grille périodique est transférée sur la surface de l'éprouvette considérée, et des images de la grille avant et après déformation sont comparées. Des techniques basées sur l'analyse de Fourier à fenêtre permettent alors d'estimer les cartes des composantes planes des déplacements et des déformations. Nous analysons dans ce rapport ce processus d'estimation. Nous montrons que les cartes estimées des déplacements et des déformations sont en fait bien approchées par la convolution des cartes réelles des déplacements et des déformations avec la fenêtre d'analyse. D'autre part, nous caractérisons la manière dont le bruit présent dans l'image de la grille se transfère sur les quantités estimées, et nous prouvons que le bruit résultant peut être approché par un bruit stationnaire spatialement corrélé. Ces résultats sont importants pour améliorer les performances métrologiques de la méthode de la grille, comme expliqué dans un rapport dédié.
Fichier principal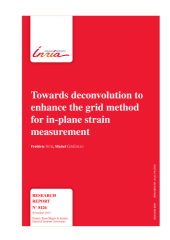 RR-8126.pdf (5.14 Mo)
Télécharger le fichier
Origin : Files produced by the author(s)