Création et évaluation d'interfaces visuelles interactives à partir de services web
This paper presents a software architecture, based on web services, that enables the creation and evaluation of interactive visual applications. Web services are a standard for data exchange in a distributed system, such as the web. They are mainly used for data publishing (via API), but can also be used for data processing. We show that web services composition permits the creation of data visualization, by reconstructing the reference model. Generated visualizations can be made interactive once coupled with a program (such as a web browser) to let the user perform visual exploration and data analysis tasks. We also present a service composition interface, and applications to graph and word cloud visualization. Finally, we show how generated server-side logs allow the representation and evaluation of users' activity.
Cet article présente une architecture logicielle basée sur les services web et permettant la création et l'évaluation d'applications visuelles interactives. Les services web sont une standardisation d'échange de données dans un système distribué, tel que le web. Ils servent principalement à la publication de données (au moyen d'API) stockées dans des bases de données, mais peuvent également servir au traitement de celles-ci. Nous montrons que leur composition permet la création de représentations visuelles de données, en reconstituant le modèle de référence de celles-ci. Les visualisations ainsi générées peuvent être rendues interactives une fois couplées avec un programme interactif (tel qu'un navigateur web), afin de permettre à l'utilisateur de réaliser des tâches d'exploration et d'analyse visuelle de données. Nous présentons une interface de composition de services et l'application à la visualisation de graphes et de nuages de mots. Enfin nous montrons comment l'usage des logs générés côté serveur permet la représentation et l'évaluation de l'activité de l'utilisateur.
Fichier principal

rvuillemot-ria-services.pdf (904.56 Ko)
Télécharger le fichier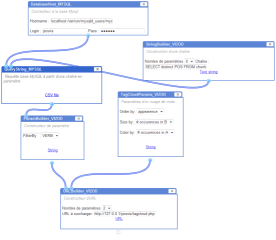 flotPOSvis.png (62.21 Ko)
Télécharger le fichier
Origin : Publisher files allowed on an open archive