Identifying Website Users by TLS Traffic Analysis: New Attacks and Effective Countermeasures
Websites commonly use HTTPS to protect their users' private data from network-based attackers. By combining public social network profiles with TLS traffic analysis, we present a new attack that reveals the precise identities of users accessing major websites. As a countermeasure, we propose a novel length-hiding scheme that leverages standard TLS padding to enforce website-specific privacy policies. We present several implementations of this scheme, notably a patch for GnuTLS that offers a rich length-hiding API and an Apache module that uses this API to enforce an anonymity policy for sensitive user files. Our implementations are the first to fully exercise the length-hiding features of TLS and our work uncovers hidden timing assumptions in recent formal proofs of these features. Compared to previous work, we offer the first countermeasure that is standards-based, provably secure, and experimentally effective, yet pragmatic, offering websites a precise trade-off between user privacy and bandwidth efficiency.
La vaste majorité des applications web repose sur HTTPS pour protéger, sur le réseau, les données privées de leurs utilisateurs. Nous présentons une nouvelle attaque qui, en combinant les données publiques des réseaux sociaux à une analyse de trafic TLS, permet de révéler l'identité des utilisateurs accédant aux sites web les plus populaires. En réponse à cette attaque, nous proposons un nouveau schéma, qui bien que n'utilisant que des fonctionnalités standards de TLS, permet de dissimuler la taille des données transitant et donc d'aiser l'application des politiques de sécurité. Nous avons intégré notre nouveau schéma de dissimulation de taille à GnuTLS via une API de haut niveau. Nous avons fait usage de cette dernière pour le développement d'un module Apache appliquant notre nouveau schéma à un ensemble de fichiers utilisateurs. Ainsi, nous offrons la première contre-mesure ne reposant que sur des fonctionnalités standards, possédant une preuve de sécurité formelle et efficace en pratique, et qui propose donc un bon compromis entre sécurité des utilisateurs et efficacité en terme de taille des données transitant sur le réseau.
Fichier principal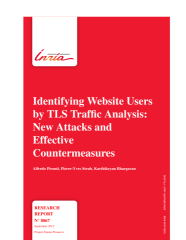 RR-8067.pdf (1.09 Mo)
Télécharger le fichier
Origin : Files produced by the author(s)