MineSweeper: Where to Probe?
Most research about the game of Minesweeper has focussed on inferring which cells may or may not contain a mine, discussing the complexity of this problem (and its variants) and proposing efficient resolution techniques. While this inference task is indeed crucial to playing Minesweeper, this paper comes back to the original game as a whole, modelling it as a sequential decision-making problem ---more precisely as a Partially Observable Markov Decision Process (POMDP)--- before proposing and studying various heuristics to solve the key problem of selecting the next cell to play.
La majeure partie de la recherche sur le jeu du démineur s'est concentrée sur le problème d'inférer quelles cellules peuvent ou ne peuvent pas contenir une mine, discutant de la complexité de ce problème (et de ses variantes) et proposant des techniques de résolution efficaces. Si cette tâche d'inférence est en effet cruciale pour jouer au démineur, ce document revient au jeu original dans sa totalité, le modélisant comme un problème de prise de décision séquentielle --plus précisément comme un processus de décision markovien partiellement observable (POMDP)-- avant de proposer et d'étudier diverses heuristiques pour résoudre le problème clef de la sélection de la prochaine cellule à jouer.
Fichier principal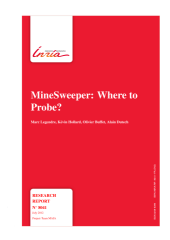 RR-8041.pdf (800.74 Ko)
Télécharger le fichier
Origin : Files produced by the author(s)