Revoke and Let Live: A Secure Key Revocation API for Cryptographic Devices
While extensive research addresses the problem of establishing session keys through cryptographic protocols, relatively little work has appeared addressing the problem of revocation and update of long term keys. We present an API for symmetric key management on embedded devices that supports revocation and prove security properties design in the symbolic model of cryptography. Our API supports two modes of revocation: a passive mode where keys have an expiration time, and an active mode where revocation messages are sent to devices. For the first we show that once enough time has elapsed after the compromise of a key, the system returns to a secure state, i.e. the API is robust against attempts by the attacker to use a compromised key to compromise other keys or keep the compromised key alive past its validity time. For the second we show that once revocation messages have been received the system is immediately in a secure state. Notable features of our designs are that all secret values on the device are revocable, and the device returns to a functionally equivalent state after revocation is complete.
De nombreuses recherches traitent du problème de l'établissement de clefs de session à l'aide de protocoles cryptographiques. Inversement, il y a eu relativement peu de travaux concernant le problème de la révocation et la mise à jour de clefs à longue durée de vie. Nous présentons une API, pour la gestion de clefs symétriques sur des systèmes embarqués, qui supporte la révocation et nous démontrons ses propriétés de sécurité dans le modèle symbolique. Notre API permet deux modes de révocation : le premier, passif, se base sur une durée de vie limitée attribuée aux clefs et le second, actif, envoie des instructions de révocation de clef aux différents dispositifs. Notre premier résultat démontre que, lorsqu'une clef est compromise, le système retourne, après un certain temps, dans un état sécurisé, c.à.d. un état où les API's respectent la politique de sécurité. Le second résultat montre, qu'une fois les messages de révocation réceptionnés, les appareils retournent immédiatement dans un état sécurisé. Les particularités principales de notre schéma sont que tous les secrets contenus dans un appareil sont révocables et, qu'après révocation, l'appareil retourne dans un état fonctionnel.
Fichier principal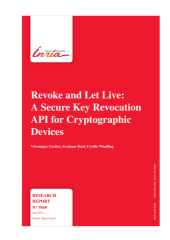 RR-7949.pdf (1008.69 Ko)
Télécharger le fichier
Origin : Files produced by the author(s)