Locally implicit time integration strategies in a discontinuous Galerkin method for Maxwell's equations
An attractive feature of discontinuous Galerkin (DG) spatial discretization is the possibility of using locally refined space grids to handle geometrical details. However, locally refined meshes lead to severe stability constraints on explicit integration methods to numerically solve a time-dependent partial differential equation. If the ratio of fine to coarse elements is small, the time step size restriction can be overcome by blending an implicit and an explicit scheme where only the solution variables living at fine elements are treated implicitly. The counterpart of this approach is having to solve a linear system per time step. But due to the assumed small fine to coarse elements ratio, the overhead will also be small while the solution can be advanced in time with step sizes determined by the coarse elements. In this paper, we present two locally implicit time integration methods for solving the time-domain Maxwell equations spatially discretized with a DG method. Numerical experiments for two-dimensional problems illustrate the theory and the usefulness of the implicit-explicit approaches in presence of local refinements.
Les méthodes Galerkin discontinues sont particulièrement bien adaptées à la prise en compte de maillages localement raffinés, permettant de considérer avec précision des géométries complexes. Cependant, l'utilisation d'un schéma d'intégration en temps explicite conduit à une restriction importante du pas de temps admissible, ce dernier étant déterminé par les plus petits éléments du maillage considéré pour assurer la stabilité de la méthode. Si le rapport entre le nombre d'éléments fins et grossiers est petit, les restrictions de taille du pas de temps les plus contraignantes peuvent être évitées par l'utilisation d'un schéma d'intégration en temps localement implicite. La contre-partie est de devoir résoudre un système linéaire à chaque itération en temps. Cependant, le rapport entre le nombre d'éléments fins et grossiers étant petit alors le surcoût issu de la résolution du système linéaire sera faible, tandis que la solution peut être avancée avec un pas de temps déterminé par les éléments grossiers du maillage global. Dans ce papier, nous présentons deux méthodes d'intégration en temps localement implicites pour la résolution des équations de Maxwell en domaine temporel, discrétisées en espace par une méthode Galerkin discontinue. Des tests numériques sur des problèmes en dimension deux illustrent la théorie et l'utilité des approches implicite-explicite en présence de raffinements locaux.
Fichier principal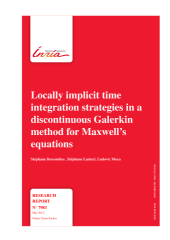 RR-7983.pdf (8.89 Mo)
Télécharger le fichier
Origin : Publisher files allowed on an open archive