A Federated Multi-Cloud PaaS Infrastructure
Cloud platforms are increasingly being used for hosting a broad diversity of services from traditional e-commerce applications to interactive web-based IDEs. However, we observe that the proliferation of offers by cloud providers raises several challenges. Developers will not only have to deploy applications for a specific cloud, but will also have to consider migrating services from one cloud to another, and to manage distributed applications spanning multiple clouds. In this paper, we present our federated multi-cloud PaaS infrastructure for addressing these challenges. This infrastructure is based on three foundations: i) an open service model used to design and implement both our multi-cloud PaaS and the SaaS applications running on top of it, ii) a configurable architecture of the federated PaaS, and iii) some infrastructure services for managing both our multi-cloud PaaS and the SaaS applications. We then show how this multi-cloud PaaS can be deployed on top of thirteen existing IaaS/PaaS. We finally report on three distributed SaaS applications developed with and deployed on our federated multi-cloud PaaS infrastructure.
Les plateformes de Cloud sont de plus en plus utilisées pour l'hébergement d'une grande variété de services qui soient d'e-commerce traditionnel ou interactif sur les environnements de développement intégré Web. Cependant, nous observons que la prolifération des offres par les fournisseurs de cloud soulève plusieurs défis. Les développeurs ne doivent pas seulement déployer des applications pour un cloud spécifique, mais ils auront également à envisager la migration des services d'un cloud à l'autre, et gérer des applications distribuées dans de multiples cloud. Dans cet article, nous présentons notre infrastructure de Paas de fédération multi-cloud pour relever ces défis. Cette infrastructure est basée sur trois fondements: i) un modèle ouvert de service utilisé pour concevoir et mettre en œuvre à la fois notre PaaS multi-cloud et les applications SaaS fonctionnant au-dessus de celui-ci, ii) une architecture configurable de PaaS distribuée, et iii) certains services d'infrastructure pour gérer à la fois notre PaaS multi-cloud et les applications SaaS. Nous montrons ensuite comment ce PaaS multi-cloud peut être déployée au-dessus de treize IaaS/PaaS existants. Finalement, nous allons présenter trois SaaS distribués, développer et déployer sur notre infrastructure de PaaS multi-cloud.
Fichier principal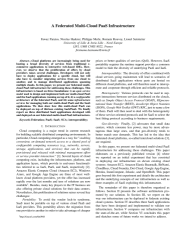 paper.pdf (795.71 Ko)
Télécharger le fichier
Origin : Files produced by the author(s)