A Review of Film Editing Techniques for Digital Games
Automated film editing involves the generation of the position, orientation, motion and selection of virtual cameras in interactive 3D graphics applications. There is a pressing demand for techniques to assist and automate the control of virtual cameras in the computer games industry where the rapid development of personal computers and high performance consoles has led to substantial improvements in the visual fidelity of games. The goal of this survey is to characterize the spectrum of applications that require automated film editing, present a summary of state-of-the-art models and techniques, and identify both promising avenues and hot topics for future research.
Dans le contexte du jeu vidéo, le montage automatique consiste à placer et cadrer les caméras virtuelles au cours du jeu en suivant les règles cinématographiques classiques. Cet état de l'art présente les applications, modèles et techniques de montage automatique, en soulignant les directions de recherche les plus prometteuses et les plus nouvelles.
Fichier principal

review.pdf (178.84 Ko)
Télécharger le fichier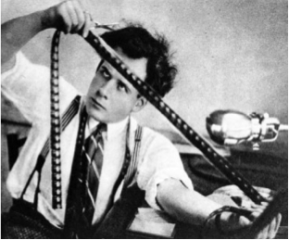 eisenstein-thumbnail.png (89.86 Ko)
Télécharger le fichier
Origin : Files produced by the author(s)