Deformable Medical Image Registration: A Survey
Deformable image registration is a fundamental task in medical image processing. Among its most important applications, one may cite: i) multi-modality fusion, where information acquired by different imaging devices or protocols is fused to facilitate diagnosis and treatment planning; ii) longitudinal studies, where temporal structural or anatomical changes are investigated; and iii) population modeling and statistical atlases used to study normal anatomical variability. In this technical report, we attempt to give an overview of deformable registration methods, putting emphasis on the most recent advances in the domain. Additional emphasis has been given to techniques applied to medical images. In order to study image registration methods in depth, their main components are identified and studied independently. The most recent techniques are presented in a systematic fashion. The contribution of this technical report is to provide an extensive account of registration techniques in a systematic manner.
Le recalage déformable d'images est une des tâches les plus fondamentales dans l'imagerie médicale. Parmi ses applications les plus importantes, on compte: i) la fusion d' information provenant des différents types de modalités a n de faciliter le diagnostic et la planification du traitement; ii) les études longitudinales, oú des changements structurels ou anatomiques sont étudiées en fonction du temps; et iii) la modélisation de la variabilité anatomique normale d'une population et les atlas statistiques. Dans ce rapport de recherche, nous essayons de donner un aperçu des différentes méthodes du recalage déformables, en mettant l'accent sur les avancées les plus récentes du domaine. Nous avons particulièrement insisté sur les techniques appliquées aux images médicales. A n d'étudier les méthodes du recalage d'images, leurs composants principales sont d'abord identifiés puis étudiées de manière indépendante, les techniques les plus récentes étant classifiées en suivant un schéma logique déterminé. La contribution de ce rapport de recherche est de fournir un compte rendu détaillé des techniques de recalage d'une manière systématique.
Fichier principal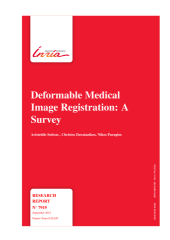 RR-7919.pdf (966.92 Ko)
Télécharger le fichier
Origin : Files produced by the author(s)