Streaming an image through the eye: The retina seen as a dithered scalable image coder
We propose the design of an original scalable image coder/decoder that is in- spired from the mammalians retina. Our coder accounts for the time-dependent and also non- deterministic behavior of the actual retina. The present work brings two main contributions: As a first step, (i) we design a deterministic image coder mimicking most of the retinal processing stages and then (ii) we introduce a retinal noise in the coding process, that we model here as a dither signal, to gain interesting perceptual features. Regarding our first contribution, our main source of inspiration will be the biologically plausible model of the retina called Virtual Retina. The coder that we propose has two stages. The first stage is an image transform which is performed by the outer layers of the retina. Here we model it by filtering the image with a bank of difference of Gaussians with time-delays. The second stage is a time-dependent analog-to-digital conversion which is performed by the inner layers of the retina. The main novelty of this coder is to show that the time-dependent behavior of the retina cells could ensure, in an implicit way, scalability and bit allocation. Regarding our second contribution, we reconsider the inner layers of the retina. We emit a possible interpretation for the non-determinism observed by neurophysiologists in their output. For this sake, we model the retinal noise that occurs in these layers by a dither signal. The dithering process that we propose adds several interesting features to our image coder. The dither noise whitens the reconstruction error and decorrelates it from the input stimuli. Further- more, integrating the dither noise in our coder allows a faster recognition of the fine details of the image during the decoding process. Our present paper goal is twofold. First, we aim at mimicking as closely as possible the retina for the design of a novel image coder while keeping encouraging performances. Second, we bring a new insight concerning the non-deterministic behavior of the retina.
Nous proposons un nouveau codeur/décodeur d'images dynamique qui est inspiré de la rétine des mammifères. Notre codeur tient compte du comportement à la fois dépen- dant du temps mais aussi non-déterministe de la rétine réelle. Le présent travail apporte deux contributions principales: (i) Dans un premier temps, nous concevons un codeur d'images à comportement déterministe qui mime la plupart des étapes de traitement de la rétine et puis (ii), nous introduisons un bruit rétinien dans le processus de codage, que nous modélisons ici comme une signal de dithering, pour acquérir des fonctionnalités perceptuelles intéressantes. En ce qui concerne notre première contribution, notre principale source d'inspiration sera le modèle biologiquement plausible de la rétine appelée Virtual Retina. Le codeur que nous proposons comporte deux étapes. La première étape est une transformation de l'image qui est effectuée par les couches externes de la rétine. Ici nous le modélisons par filtrage de l'image avec une banc de différences de gaussiennes retardées dans le temps. La deuxième étape est une fonction du temps analogique-numérique de conversion qui est effectuée par les couches internes de la rétine. La principale nouveauté de ce codeur est de montrer que le comportement dépendant du temps de cellules de la rétine pourrait assurer, l'allocation de débit et la scalabilité d'une manière implicite. Concernant notre deuxième contribution, nous réexaminons les couches internes de la rétine. Nous émettons une interprétation possible pour le non-déterminisme de leur sortie tel qu'observé observé par les neurophysiologistes. Pour cette cause, nous modélisons le bruit rétinienne qui survient dans ces couches par un signal de dithering. Le processus de dithering que nous proposons ajoute plusieurs fonctionnalités intéressantes à notre codeur d'images. Le bruit de dithering rend blanc le spectre de l'erreur de reconstruction et la décorréle des stimuli d'entrée. Par ailleurs, l'intégration du bruit de dithering dans notre codeur permet une recon- naissance plus rapide des détails fins de l'image pendant le processus de décodage. Notre objectif dans le présent travail est double. Tout d'abord, nous cherchons à imiter le plus fidèlement pos- sible la rétine pour la conception d'un codeur image original tout en gardant des performances encourageantes. Deuxièmement, nous apportons une nouvelle vision concernant le comportement non-déterministe de la rétine.
Fichier principal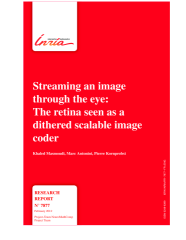 RR-7877.pdf (1.65 Mo)
Télécharger le fichier
Origin : Files produced by the author(s)