An implementation of the Wiener-Hopf factorization into finite difference methods for option pricing under Lévy processes
In the paper, we consider the problem of pricing options in wide classes of Lévy processes. We propose a general approach to the numerical methods based on a finite difference approximation for the generalized Black-Scholes equation. The goal of the paper is to incorporate the Wiener-Hopf factorization into finite difference methods for pricing options in Lévy models with jumps. The method is applicable for pricing barrier and American options. The pricing problem is reduced to the sequence of linear algebraic systems with a dense Toeplitz matrix; then the Wiener-Hopf factorization method is applied. We give an important probabilistic interpretation based on the infinitely divisible distributions theory to the Laurent operators in the correspondent factorization identity. Notice that our algorithm has the same complexity as the ones which use the explicit-implicit scheme, with a tridiagonal matrix. However, our method is more accurate. We support the advantage of the new method in terms of accuracy and convergence by using numerical experiments.
On considère le problème d'évaluation d'options pour une large classe de processus de Lévy. On propose une approche numérique basée sur une approximation par différences finies pour l'équation de Black-Scholes généralisée. Le but est d'introduire la factorisation de Wiener-Hopf dans la méthode de différences finies pour l'évaluation d'options dans des modèles de Lévy avec sauts. La méthode s'applique au cas des options barrières et les options américaines. Le problème d'évaluation se réduit à une suite de systèmes linéaires algébriques avec matrice dense de Toeplitz, pour laquelle la méthode de factorisation de Wiener-Hopf est appliquée. Nous donnons une interprétation probabiliste basée sur la théorie des distributions infiniment divisibles des opérateurs de Laurent de l'identité de factorisation correspondante. Notre algorithme a la même complexité que le shéma explicite avec matrice tridiagonale, mais est plus précis. Nous illustrons l'avantage de cette méthode en termes de précision et convergence, sur des expériences numériques.
Fichier principal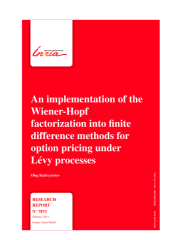 RR-7873.pdf (358.87 Ko)
Télécharger le fichier
Origin : Files produced by the author(s)