Les Interfaces Cerveau-Ordinateur: Conception et Utilisation en Réalité Virtuelle
Brain-Computer Interfaces (BCI) are emerging interfaces that enable their users to send commands to a computer by means of brain activity only. In this paper, we first propose a brief overview of BCI, focused on BCI principles and applications. In a second part, we present our recent contributions to BCI research. More precisely, we present 1) our contributions in brain signal processing and classification to design an efficient BCI, able to accurately identify the user's mental state and 2) our work related to the design of concrete BCI-based virtual reality applications. Finally, this paper proposes some promising perspectives for BCI, notably in the fields of assistive technologies, video games and mental state monitoring.
Les interfaces cerveau-ordinateur ou BCI ("Brain-Computer Interfaces") sont une forme émergente d'interfaces permettant à un utilisateur d'envoyer des commandes à un ordinateur uniquement grâce à son activité cérébrale. Dans cet article, nous proposons tout d'abord un bref tour d'horizon des BCI s'intéressant à leur fonctionnement et à leurs applications. Dans une deuxième partie, nous présentons nos récents travaux et plus particulièrement 1) nos contributions en traitement et classification de signaux cérébraux afin de concevoir des BCI efficaces, capables de reconnaitre précisément l'état mental de l'utilisateur et 2) nos recherches visant à concevoir des applications concrètes de réalité virtuelle contrôlée à l'aide d'une BCI. Enfin, cet article propose quelques perspectives prometteuses pour les BCI notamment dans les domaines du handicap, des jeux vidéos ou encore du suivi temps réel d'état mental.
Fichier principal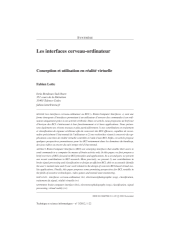 lotteTSI2012.pdf (409.43 Ko)
Télécharger le fichier
Origin : Files produced by the author(s)