Secure Querying of Recursive XML Views: A Standard XPath-based Technique
Most state-of-the art approaches for securing XML documents allow users to access data only through authorized views defined by annotating an XML grammar (e.g. DTD) with a collection of XPath expressions. To prevent improper disclosure of confidential information, user queries posed on these views need to be rewritten into equivalent queries on the underlying documents. This rewriting enables us to avoid the overhead of view materialization and maintenance. A major concern here is that query rewriting for recursive XML views is still an open problem. To overcome this problem, some works have been proposed to translate XPath queries into non-standard ones, called Regular XPath queries. However, query rewriting under Regular XPath can be of exponential size as it relies on automaton model. Most importantly, Regular XPath remains a theoretical achievement. Indeed, it is not commonly used in practice as translation and evaluation tools are not available. In this paper, we show that query rewriting is always possible for recursive XML views using only the expressive power of the standard XPath. We investigate the extension of the downward class of XPath, composed only by child and descendant axes, with some axes and operators and we propose a general approach to rewrite queries under recursive XML views. Unlike Regular XPath-based works, we provide a rewriting algorithm which processes the query only over the annotated DTD grammar and which can run in linear time in the size of the query. An experimental evaluation demonstrates that our algorithm is efficient and scales well.
La plupart des travaux existant autour du contrôle d'accès des documents XML se basent sur la définition d'une vue pour chaque utilisateur qui représente les parties des données dont il est autorisé à lire et/ou modifier. Cette vue est le résultat de l'annotation de la grammaire associée au document XML (par exemple une DTD) par différentes conditions d'accès exprimées sous forme d'expressions XPath. Pour empêcher l'accès à des données confidentielles "cachées par la vue", chaque requête posée par l'utilisateur sur la vue doit être réécrite pour qu'elle soit évaluée en toute sécurité sur le document original. Cette réécriture permet d'éviter le coût de la matérialisation et de la maintenance de la vue. Cependant, la réécriture des requêtes XPath dans le cas des vues XML récursives reste un problème ouvert. Pour pallier à ce problème, certains travaux ont proposé de travailler avec un langage de requêtes non-standard, appelé "Regular XPath'', qui est plus expressif que le XPath, pour pallier au problème de réécriture. Néanmoins, le langage "Regular XPath'' reste au stade théorique car aucun outil d'évaluation n'est disponible en pratique. Une implémentation de ce langage est basée sur les automates, ce qui peut engendrer une complexité de réécriture exponentielle. Dans ce papier, nous montrons que la réécriture des requêtes XPath dans le cas des vues XML récursives est possible sans passer par des transformations vers d'autres langages (tel que "Regular XPath''), et peut être faite en temps linéaire. Nous étudions l'extension du fragment XPath, appelé en anglais "downward class" (composé seulement par les axes "child" et "descendant"), par certains axes et opérateurs XPath. En nous basant sur cette extension, nous proposons un modèle général pour réécrire des requêtes XPath pour des vues XML arbitraires, récursives ou non. Une phase d'expérimentation montre bien l'efficacité ainsi que le passage à l'échelle de notre algorithme de réécriture.
Fichier principal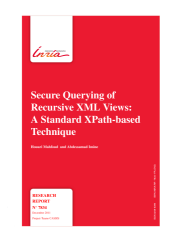 RR-7834.pdf (773.33 Ko)
Télécharger le fichier
Origin : Files produced by the author(s)