1-D Coordinate Based on Local Information for MAC and Routing Issues in WSNs
More and more critical Wireless Sensor Networks (WSNs) applications are emerging. Those applications need reliability and respect of time constraints. The underlying mechanisms such as MAC and routing must handle such requirements. Our approach to the time constraint problem is to bound the hop-count between a node and the sink and the time it takes to do a hop so the end-to-end delay can be bounded and the communications are thus real-time. For reliability purpose we propose to select forwarder nodes depending on how they are connected in the direction of the sink. In order to be able to do so we need a coordinate (or a metric) that gives information on hop-count, that allows to strongly differentiate nodes and gives information on the connectivity of each node keeping in mind the intrinsic constraints of WSWs such as energy consumption, autonomy, etc. Due to the efficiency and scalability of greedy routing in WSNs and the financial cost of GPS chips, Virtual Coordinate Systems (VCSs) for WSNs have been proposed. A category of VCSs is based on the hop-count from the sink, this scheme leads to many nodes having the same coordinate. The main advantage of this system is that the hops number of a packet from a source to the sink is known. Nevertheless, it does not allow to differentiate the nodes with the same hop-count. In this report we propose a novel hop-count-based VCS which aims at classifying the nodes having the same hop-count depending on their connectivity and at differentiating nodes in a 2-hop neighborhood. Those properties make the coordinates, which also can be viewed as a local identifier, a very powerful metric which can be used in WSNs mechanisms.
De plus en plus d'applications des réseaux de capteurs sans fil émergent avec de fortes contraintes applicatives notamment en terme de fiabilité et de respect de contraintes temporelles. Les mécanismes réseaux sous-jacents tel que les protocoles MAC et de routage doivent pouvoir satisfaire ces contraintes. Dans le cas des contraintes temporelles notre approche du problème consiste à borner le nombre de sauts maximum entre les noeuds et le puits, ainsi que la durée d'un saut, cela permettant de borner le délai de bout en bout. Concernant la fiabilité, nous proposons de sélectionner les noeuds relais en fonction de leur connectivité avec les noeuds plus proches du puits. Pour pouvoir parvenir à cela nous avons besoin d'une coordonnée (ou une métrique) qui donne une information sur le nombre de sauts, qui permet de fortement différencier les noeuds et qui donne une information sur la connectivité de chaque noeud. Le routage de type ''greedy'' est considéré comme efficace dans les réseaux de capteurs sans fil car il permet le passage à l'échelle. Cependant le coût financier d'un module GPS a poussé à développer des systèmes de coordonnées virtuelles. Un type de coordonnées est basé sur le nombre de saut entre les noeuds et le puits, cela implique que plusieurs noeuds peuvent avoir la même coordonnée. Le principal avantage de ce système est que les noeuds connaissent le nombre de sauts qui les séparent du puits. Cependant, il ne permet pas de différencier les noeuds qui ont le même nombre de sauts. Dans ce rapport nous proposons un nouveau système de coordonnées qui a pour but de classer les noeuds qui ont le même nombres de sauts en fonction leur connectivité et de différentier les noeuds dans un 2-voisinage. Ces propriétés font de cette coordonnée, qui peut être vue comme un identifiant local, une métrique puissante qui peut être utilisée dans les mécanismes des réseaux de capteurs sans fil.
Fichier principal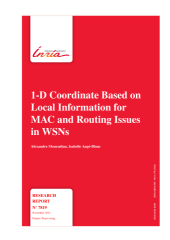 RR-7819.pdf (717.15 Ko)
Télécharger le fichier
Origin : Files produced by the author(s)