BADCO: Behavioral Application-Dependent superscalar Core Models
Microarchitecture research and development relies heavily on simulators. The ideal simulator should be simple and easy to develop, it should be precise, accurate and very fast. As the ideal simulator does not exist, microarchitects use different sorts of simulators at different stages of the development of a processor, depending on which is most important, accuracy or simulation speed. Approximate microarchitecture models, which trade accuracy for simulation speed, are very useful for research and design space exploration, provided the loss of accuracy remains acceptable. Behavioral superscalar core modeling is a possible way to trade accuracy for simulation speed in situations where the focus of the study is not the core itself. In this approach, a superscalar core is viewed as a black box emitting requests to the uncore at certain times. A behavioral core model can be connected to a cycle-accurate uncore model. Behavioral core models are built from detailed simulations. Once the time to build the model is amortized, important simulation speedups can be obtained. We describe and study a new method for defining behavioral models for modern superscalar cores. The proposed Behavioral Application-Dependent superscalar COre model (BADCO) predicts the execution time of a thread running on a superscalar core with an error typically under 5%. We show that BADCO is qualitatively accurate, being able to predict how performance changes when we change the uncore. The simulation speedups obtained with BADCO are typically greater than 10.
La recherche et développement en microarchitecture est en grande partie basée sur l'utilisation de simulateurs. Le simulateur idéal devrait être simple, facile à développer, précis, et très rapide. Comme le simulateur idéal n'existe pas, les microarchitectes utilisent différentes sortes de simulateurs à différentes étapes du développement d'un processeur, en fonction de ce qui est le plus important, la précision ou la vitesse de simulation. Les modèles approchés de microarchitecture, qui sacrifient de la précision afin d'obtenir une plus grande vitesse de simulation, sont très utiles pour la recherche et pour l'exploration d'un espace de conception, pourvu que la perte de précision reste acceptable. La modélisation comportementale de coeur superscalaire est une méthode possible de définition de modèle approché dans les cas où l'objet de l'étude n'est pas le coeur lui-même. Cette méthode considère un coeur superscalaire comme une boite noire émettant des requêtes vers le reste du processeur à des instants déterminés. Un modèle comportemental de coeur peut être connecté à un modèle de hiérarchie mémoire précis au cycle près. Les modèles comportementaux sont construits à partir de simulations détaillées. Une fois le temps de construction du modèle amorti, des gains importants en temps de simulation peuvent être obtenus. Nous décrivons et étudions une nouvelle méthode pour la définition de modèles comportementaux de coeurs superscalaires. La méthode que nous proposons, BADCO, prédit le temps d'exécution d'un programme sur un coeur superscalaire avec une erreur typiquement inférieure à 5%. Nous montrons que la précision d'un modèle BADCO est aussi qualitative et permet de prédire comment la performance change lorsqu'on modifie la hiérarchie mémoire. Les gains en temps de simulation obtenus avec BADCO sont typiquement supérieurs à 10.
Fichier principal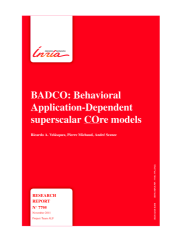 RR-7795.pdf (709.52 Ko)
Télécharger le fichier
Origin : Files produced by the author(s)