Tiptop: Hardware Performance Counters for the Masses
Hardware performance monitoring counters have recently received a lot of attention. They have been used by diverse communities to understand and improve the quality of computing systems: for example, architects use them to extract application characteristics and propose new hardware mechanisms; compiler writers study how generated code behaves on particular hardware; software developers identify critical regions of their applications and evaluate design choices to select the best performing implementation. In this paper, we propose that counters be used by all categories of users, in particular non-experts, and we advocate that a few simple metrics derived from these counters are relevant and useful. For example, a low IPC (number of executed instructions per cycle) indicates that the hardware is not performing at its best; a high cache miss ratio can suggest several causes, such as conflicts between processes in a multicore environment. We also introduce a new simple and flexible user-level tool that collects these data on Linux platforms, and we illustrate its practical benefits through several use cases.
Les compteurs de performance matériels ont récemment reçu un surcroît d'intérêt. Ils ont été utilisés par diverses communautés pour analyser et améliorer la qualité des systèmes informatiques: par exemple, les architectes les utilisent pour extraire des caractéristiques applicatives et proposer de nouveaux mécanismes matériels; les concepteurs de compilateurs étudient comment le code produit se comporte sur un matériel particulier; les développeurs logiciel identifient les régions critiques de leurs applications et comparent différentes approches pour sélectionner la meilleure implémentation. Dans ce document, nous proposons de mettre les compteurs de performance à la disposition de tous les utilisateurs, en particuliers les non-experts, et nous préconisons quelques métriques simples, dérivées de ces compteurs, qui sont pertinentes et utiles. Par exemple, un IPC faible (nombre d'instructions exécutées par cycle) indique que le matériel n'est pas utilisé au maximum de ses possibilités; un taux de défauts de cache élevé suggère plusieurs raisons, comme des conflits entre processus dans un environnement multicœurs. Nous proposons un nouvel outil, simple et flexible, qui collecte ces informations dans une plate-forme Linux, et nous illustrons son utilité par plusieurs études de cas.
Fichier principal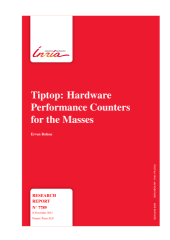 RR-7789.pdf (734.14 Ko)
Télécharger le fichier
Origin : Files produced by the author(s)