SenPeer : un système pair-à-pair de médiation de données
In this article we present SenPeer, a new Peer-to-Peer data management system allowing data sharing among experts working on the development of the Senegal river in a decentralized and lexible fashion. SenPeer has a Super-Peer network topology based on an organization of peers in semantic domains and in which peers can contribute XML documents, relational or object databases. Each peer exports its data in a common formalism which has a graph structure semantically enriched with a set of keywords in order to guide mappings discovery. Mappings discovery relies on a set of fuzzy similarity measures. Moreover they allow the establishement of a semantic topology that is independent of the underlying network topology which is the basis for intelligent query routing.
Dans cet article nous présentons SenPeer, un nouveau système pair-à-pair de gestion de données distribuées permettant le partage décentralisé et flexible de données relatives la mise en valeur du fleuve Sénégal. SenPeer est un réseau de type Super-Pair reposant sur une organisation des pairs en domaines sémantiques et dans lequel les pairs peuvent publier des bases de données relationnelles ou objets ou des documents XML. Chaque pair exporte ses données dans un formalisme pivot commun qui a une structure de graphe enrichi sémantiquement avec des mots-clés destinés à guider la découverte des correspondances entre les éléments des schémas. Ces correspondances sont découvertes grace à un ensemble de mesures de similarités floues. De plus elles permettent l'établissement d'un réseau sémantique à coté de la typologie physique. pouvant servir de support un à routage intelligent des requêtes.
Fichier principal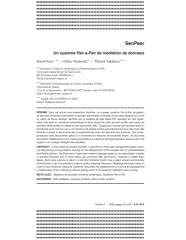 arima00402.pdf (1.24 Mo)
Télécharger le fichier
Origin : Publisher files allowed on an open archive