Static/Dynamic Analyses for Validation and Improvements of Multi-Model HPC Applications.
Analyse statique/dynamique pour la validation et l'amélioration des applications parallèles multi-modèles
Supercomputing plays an important role in several innovative fields, speeding up prototyping or validating scientific theories. However, supercomputers are evolving rapidly with now millions of processing units, posing the questions of their programmability. Despite the emergence of more widespread and functional parallel programming models, developing correct and effective parallel applications still remains a complex task. Although debugging solutions have emerged to address this issue, they often come with restrictions. However programming model evolutions stress the requirement for a convenient validation tool able to handle hybrid applications. Indeed as current scientific applications mainly rely on the Message Passing Interface (MPI) parallel programming model, new hardwares designed for Exascale with higher node-level parallelism clearly advocate for an MPI+X solutions with X a thread-based model such as OpenMP. But integrating two different programming models inside the same application can be error-prone leading to complex bugs - mostly detected unfortunately at runtime. In an MPI+X program not only the correctness of MPI should be ensured but also its interactions with the multi-threaded model, for example identical MPI collective operations cannot be performed by multiple nonsynchronized threads. This thesis aims at developing a combination of static and dynamic analysis to enable an early verification of hybrid HPC applications. The first pass statically verifies the thread level required by an MPI+OpenMP application and outlines execution paths leading to potential deadlocks. Thanks to this analysis, the code is selectively instrumented, displaying an error and synchronously interrupting all processes if the actual scheduling leads to a deadlock situation.
L'utilisation du parallélisme des architectures actuelles dans le domaine du calcul hautes performances, oblige à recourir à différents langages parallèles. Ainsi, l'utilisation conjointe de MPI pour le parallélisme gros grain, à mémoire distribuée et OpenMP pour du parallélisme de thread, fait partie des pratiques de développement d'applications pour supercalculateurs. Des erreurs, liées à l'utilisation conjointe de ces langages de parallélisme, sont actuellement difficiles à détecter et cela limite l'écriture de codes, permettant des interactions plus poussées entre ces niveaux de parallélisme. Des outils ont été proposés afin de palier ce problème. Cependant, ces outils sont généralement focalisés sur un type de modèle et permettent une vérification dite statique (à la compilation) ou dynamique (à l'exécution). Pourtant une combinaison statique/- dynamique donnerait des informations plus pertinentes. En effet, le compilateur est en mesure de donner des informations relatives au comportement général du code, indépendamment du jeu d'entrée. C'est par exemple le cas des problèmes liés aux communications collectives du modèle MPI. Cette thèse a pour objectif de développer des analyses statiques/dynamiques permettant la vérification d'une application parallèle mélangeant plusieurs modèles de programmation, afin de diriger les développeurs vers un code parallèle multi-modèles correct et performant. La vérification se fait en deux étapes. Premièrement, de potentielles erreurs sont détectées lors de la phase de compilation. Ensuite, un test au runtime est ajouté pour savoir si le problème va réellement se produire. Grâce à ces analyses combinées, nous renvoyons des messages précis aux utilisateurs et évitons les situations de blocage.
Fichier principal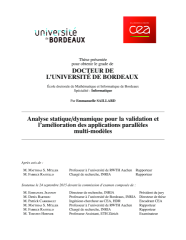 SAILLARD_EMMANUELLE_2015.pdf (2.81 Mo)
Télécharger le fichier
Origin : Version validated by the jury (STAR)