Spécification et substitution de services OSGi
Software Oriented Architecture is one of the more popular and currently used architectural models. One of the essentials properties offered by this model is the loose binding between services. This property allows to indepently develop and deploy building blocks of an application. This leads to a hight mobility of the execution environment, where services can appear and disappear without a prior notivication. This paradigm brings several advantages in software designing and developpement, but there is ab big deal whis is to guaratee that applications built on top services will continue to run properly, even if the environnement is dynamic. In our work, we are interessed by one of the major problems of services communication which is services substitution. This problem is even more complex when services used are statefull. Besides, the substitution process include a look up mechanism of a compatible service, to replace the disappeared one. We work on OSGi platform and we propose an approach of services specification, in order to improve the finding of the best service for the substitution. Our contributions are then, on the first hand to provide an API based on proxies use to manage services substitutions in OSGi. On the second hand, we propose an approach of services specification based on a combined use of interface automata and CCS, to help finding the best service for the substitution.
Les architectures orientées services constituent l'un des principaux modèles architecturaux couramment utilisés aujourd'hui. La propriété essentielle de ces architectures est le faible couplage entre les services. Cela permet de développer et de déployer les briques de base des applications de manière indépendante. Ceci conduit à une grande mobilité de l'environnement d'exécution où les services peuvent apparaître et disparaître à tout moment. Cependant, cette indépendance des services soulève de nombreux défis, dont l'un des principaux est de pouvoir donner le maximum de garanties sur le fait qu'une application utilisant les services développés par ailleurs s'exécutera comme prévu par ses concepteurs. Dans le cadre du présent travail, nous nous intéressons à l'une des principales raisons des problèmes de communication dans les environnements à services, qui est la substitution des services. Ce problème de substitution est encore plus complexe lorsque les services possèdent un état interne (statefull). Par ailleurs, le mécanisme de substitution implique la recherche d'un service compatible pour remplacer le disparu. Nous proposons donc un mécanisme permettant de fournir une spécification comportementale avec les services, de façon à ce qu'on puisse trouver le meilleur service possible pour la substitution. Nous travaillons sur la plate-forme OSGi qui implémente une architecture orientée services, et où aucun mécanisme de substitution n'est proposé par défaut. Notre contribution, d'une part, est une API basée sur l'utilisation des proxy, pour permettre de gérer la substitution des services sous OSGi. D'autre part, nous proposons une approche de spécification des comportements des services OSGi basée sur les automates interfaces et sur le CCS (algèbre de processus). D'un point de vue pratique, nous avons développé un cas d'étude sur OSGi, sur lequel nous avons illustré notre approche de spécification de services. Nous avons aussi implémenté une partie de notre API que nous avons testé à l'aide de quelques tests unitaires.
Fichier principal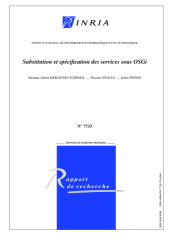 RR-7733.pdf (691.09 Ko)
Télécharger le fichier
Origin : Files produced by the author(s)