A Portable and Efficient Communication Library for High-Performance Cluster Computing
This paper introduces Madeleine II, a new adaptive and portable multi-protoco- l communication library. Madeleine II has the ability to control multiple network protocols (BIP, SISCI, VIA) and multiple network adapters (Ethernet, Myrinet, SCI) within the same application session. Moreover, it includes advanced mechanisms to dynamically select the most appropriate transfer method for a given network protocol according to various parameters such as data size or responsiveness user requirements. We report on performance measurements obtained using BIP and SCI and we present preliminary results about our Nexus/Madeleine II and MPICH/Madeleine II ports.
Cet article présente MadeleineII, une nouvelle bibliothèque de communication portable et adaptative. MadeleineII est capable de contrôler plusieurs protocoles réseaux (BIP, SISCI, VIA) et plusieurs types de cartes d'interface (Ethernet, Myrinet, SCI) au cours d'une même session. De plus, elle intègre un système de sélection dynamique de la méthode de transfert la plus approprièe pour chaque protocole réseau, d'après divers paramétres tels que la taille des données ou la réactivité requise. Nous présentons les mesures de performance sur des réseaux rapides tels que BIP et SCI ainsi que les premiers résultats de nos adaptations de NEXUS et MPICH au-dessus de MadeleineII.
Fichier principal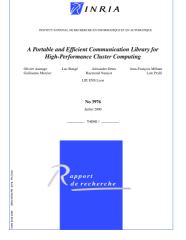 RR-3976.pdf (190 Ko)
Télécharger le fichier
RR2000-26.pdf (285.83 Ko)
Télécharger le fichier