Traitement des événements complexes pour une gestion proactive des instances d'un processus métier
Business Process Management – BPM helps organizations adapt to strategic, organizational and technical changes, as it enables more visibility and control of business processes and their activities, from modeling to execution and optimization if required. However, the new digitalized era and the rise of several new technologies such as big data, fast data, cloud computing, Internet of Things (IoT), etc, implies new business process challenges linked basiclly to limited (human / machine) resources and the need to use these resources in an optimal way. During process execution a lot of data and event data are generated. Moreover, business process instances are mostly triggered by events. That is why analysing and processing these events is of great importance in improving business process management. In this paper, we try to explain that techniques and methods proposed by the field of Complex Event Processing (CEP) can be exploited to improve certain aspects of BPM, mainly for event-driven business processes. In fact, these techniques can help to process and filter these events, to optimize their management during the execution of business process instances. A case study is presented and the obtained results from our experimentations demonstrate the benefit of our approach and allowed us to confirm the efficiency of our assumptions.
Le management des processus métier (Business Process Management – BPM) est vu comme la solution adéquate qui aide les organisations à s'adapter aux évolutions stratégiques, organisationnelles et techniques. Le BPM aide à avoir plus de visibilité et de contrôle sur les processus métier, de la modélisation des processus métier jusqu'à l'exécution et l'optimisation en cas de besoin. Cependant, la transformation digitale et l'essor de plusieurs nouvelles technologies telles que les big data, le cloud computing, et l'internet des objets (IoT), etc, engendrent de nouveaux défis, dans le domaine du BPM, liés entre autres aux ressources (humaines / machines) limitées et à la nécessité d'optimiser davantage l'utilisation de ces ressources, ainsi que l'exploitation des données et événements. La notion d'événement est très importante dans le BPM. En effet, au court de son exécution, un processus métier génère beaucoup de données (event data/event logs). En plus, ses instances sont généralement déclenchées par des événements. C'est pourquoi, l'analyse et le traitement de ces événements ont une grande importance dans l'amélioration de la gestion de processus métier. Dans ce papier, nous essayons de montrer comment les techniques et méthodes proposées par le domaine du traitement des événements complexes (Complex Event Processing – CEP) peuvent être exploitées afin d'améliorer certains aspects du BPM, principalement pour les processus métier basés sur les événements.
Fichier principal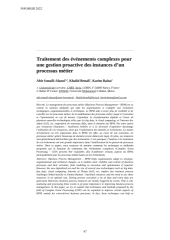 Actes_INFORSID2022.pdf (1.08 Mo)
Télécharger le fichier
Origin : Publisher files allowed on an open archive